Termite Control Companies in Garden Grove
While there are several termite control companies in Orange County, none provide a similar method of termite treatments without fumigation. Treebark Termite and Pest Control are unique in that our Treebark Treatment naturally derived product effectively rids your home of all the types of termites. Most of our competitors are likely to perform one of the types of Termite Control Treatments below. We find that Termite Control in Garden Grove doesn't have to be about fumigating your home, we explain below
Treebark Termite and Pest Control Garden Grove
12011 Emerald Lane, Garden Grove, California - 92845 United States
(714) 406-4809
Schedule Free Inspection
If Google allowed 10 stars, then I would give it to them.We just bought a house and discovered a nest of termites down the basement. I called Treebark and they took care of the issue that dame day. They also scheduled for another termite inspection and treatment if necessary. Good thing we didn't have to cross that bridge. The price was perfect and the service was professional and quick. They even gave further advice on how to protect our home.
We just moved here and we could not be happier with Treebark! We will continue to use them for their services. Prompt, knowledgeable, fair priced and very friendly! Thank you for coming out so quickly.
Treebark was the perfect compliment to ensure our ENTIRE home is pest free!! Would absolutely use them again.
Listened to all my concern and addressed it with Eco-friendly solutions. Very thorough, very careful and gave great tips for preventing future pest problems. Customer service has been great! Big Thanks!
These guys do are termite control and pest control for our home. They show up on time and they seem to do a very good job.
I called Tree Bark Termite and Pest Control and I am very happy with the service we receive from them. I really appreciate everything they've done! They were very responsive to my inquiries promptly and they were able to answer all my questions thoroughly. We had an ant outbreak coming through my kitchen wall and these guys did an amazing job of getting rid of them as quick as possible. I highly recommend them!
Very friendly and knowledgeable so I know, I picked the best team for this problem. Plus the work has a guarantee.
Treebark Termite and Pest Control is wonderful, wallet - friendly, safe, solid, dependable and most importantly -- the treatments work! I am so appreciative of this service and I definitely recommend this company!
Responsive, informative and puts the clients safety first. I've had nothing but positive interactions with this company. I strongly recommend them to anyone looking for a pest control company with a solid record.
Awesome! Fast, friendly, SAFE, EFFECTIVE and always very patient and loving with our two dogs. They are also flexible about changes to the appointment or extra services needed. Thanks, we appreciate you.
I must say these people are truly exceptional and have detailed knowledge about their respective field, they were super willing to help and patiently answer all my questions in reference to the issues I was having and I want to take this opportunity to thank you guys very much for helping me out I will definitely recommend
The exterminators who came to our home were very professional and knowledgeable from start to finish; they really knew what they are doing. They answered all of our crazy questions and explained every treatment that they do. –Everything explained in a way, I could understand it. Happy that they keep the termite and pests away in our home. Thanks, Treebark for providing great service.I'll definitely call again, if needed.
Called for a free estimate and home inspection for all pest after a colleague told me that the service were of great result. I wish I could remember the name of the guy who did the treatment, he was really cool to talk to and very professional. Started seeing dead roaches right away it was totally worth the reasonable price vs me going to the store and doing something on my own. Highly recommend this company, very reasonable prices and friendly professional licensed staff.
Satisfied! Stress-free! Spectacular! I am so keen with small details and I want everything on its absolute time, should be prompt, clean and solved. It's almost a year now that we're having our pest and termite problem specifically on our fence. They started the job early, finished it on time, newly-painted, clean work and no trace of termites in our front yard. I will definitely use them again in the future.
A most amazing company that has talented employees. We were talking about pest when a pest was found in the garage. It was something that we didn't expect because before we bought the house, there's been nothing like that. Even during the inspections, nothing like pest were found so I am really surprised when we found a whole bunch of it in the garage. So I called the good people of Treebark for help. They willingly went to my house and checked the garage.They said that it was good that we reported it because it was just starting and the damage was not really that big and they can fix. On my mind "wow, this company is really great". Then they went into my house and fixed the problem. It was done fast because the guys that went to my house were very good at what they are doing. They are the best indeed!
Next Reviews
Fumigation AKA Tenting
Fumigation is a Drywood Termite only termite treatment. The home is covered in heavy tarps and clipped together with industrial strength clamps. These heavy tarps, unfortunately, lead to roof damage for homes with tile. Sulfuryl Fluoride is the gas used in Fumigations. Sulfuryl Fluoride is an oxygen-displacing gas that kills via suffocation. One breath of this powerful oxygen-displacing neurotoxin and you will become unconscious. The problem with this treatment is that it only works for Drywood Termites leaving your home vulnerable to an underlying Subterranean Termite issue. 1 of 2 is a failing grade in my opinion.
Localized Termite Treatments AKA Spot treatment
Spot Treatments are one of the more preferred termite control treatments outside of fumigation because of its ability to control Drywood and Subterranean Termites. My complaint against these types of procedures and the companies who provide them centers around their warranties and materials. Often you will find the local treatment companies warranty the areas of treatment, not the entire home. These leads homeowners into feeling nickeled and dimed as each new area discovered requires additional treatment at an additional cost. Spot treatments earn a failing grade in my book.
How Is Treebark Termite and Pest Control Different with The Treebark Treatment System?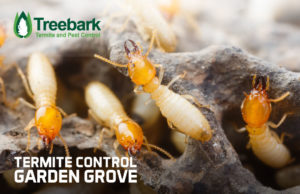 Our system incorporates elements of all common termite and pest control treatments to you in one complete system. All while using non-invasive materials safe for the kids and pets to be around. Our system does use the harsh pesticides. Our System Controls All the types of Termites not just one or the other. The warranty covers the entire home from returning pests and scheduled (3x!) visits are free during the warranty period. Our competitors offer warranties on an annual basis often inspecting one time per year. With Treebark, we see your home 4x a year to check and reapply the barrier. If you see anything throughout the year, we will send an inspector to identify and retreat within 24 hours!
Termite Inspection Garden Grove
One way to nip a termite infestation in the bud is to perform regular inspection. Among other things, a periodic termite inspection of your property will let you discover an infestation and take effective action before it becomes bigger. There are many Termite inspection methods homeowners can make use of.
While you can do a termite inspection yourself, you should know that pest control companies have the resources and training to do a thorough job for you, especially if you have a big property.
Inspection can be done whether you notice termite activity or not. Termites often operate away from where you can easily notice them. The subterranean termites, for example, live some inches below the ground surface. By the time you become aware of their activities, serious damages may have been done.
DIY Termite Inspection Methods
Indoor Inspection
The primary source of wood for termite is wood – decaying wood, soft wood. So it makes sense to start your inspection from wherever you have wood or wooden frames in the house, especially where these are in contact with the floor. For this task, you will need basic tools like a flashlight, a hammer, and a screwdriver. You will also need gloves and a dust mask.
Check the base of the interior walls. Look out for small mounds of dirt near wooden frames and mud tubes on the wall.
When you see something unusual on a wood, hit the particular spot with the hammer if it caves in or sounds hollow, termites may be at work.
Be careful not to damage your property because I have done that myself.
Take extra care when you're inspecting the kitchen, bathroom or any other room where water is used regularly. Termites' colonies thrive near water sources. Just like humans, termites need water to live.
Outdoor inspection
Check around the foundation walls for mud tubes and termite tunnels. Take time to check well woods resting on the ground. Since moisture will naturally draw termite, check out spots near pipes and water leaks. Check firewood stacks and move them far away from the house.
Termite Inspection by Pest Control Companies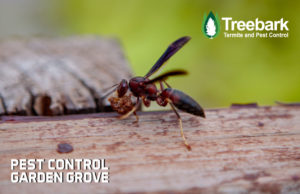 If you think the above is too much work, then you can employ the help of pest control companies who make use of a combination of termite inspection methods to help you detect and eliminate termite colonies that are targeting your home. This kind of inspection is always much more thorough since the company takes into cognizance a lot of factors which might not be clear to you.
One common method used by pest control firms is to set up monitoring stations around your property. Do not let anyone perform termite control in garden grove ca using baits. It is the worst idea. It brings termites to your house. When we detect termite activity, the monitoring station may give way to a bait station. Or the company may decide to use chemicals to eliminate termites on your property. If you will be taking the pest control company route then be ready to cough out some cash.
Conclusion Regarding Termite Control in Garden Grove
A regular inspection now can surely save you thousands of dollars in damages later, and the good thing is you can do this yourself using any of the termite inspection methods outlined in this post. Termite control in Garden Grove isn't fumigating your house every time the neighborhood has a termite swarm. It's about maintaining your property for the decades you plan on living in it. We hope you choose our company. Treebark values your business. We hope that you tell your friends and family about us because it really helps our small business grow. Thank you for stopping by our website and reading our pages. Rather than wait, I hope you decide to pick up the phone and call us for service.
Have a great day. Please let us know if there is anything we can do for you or your family regarding termite control. Rather than go with Terminix please choose us, it means more to small businesses.