Best Termite Control Company in Laguna Beach
If you live in Laguna Beach, there is a very good chance that you're living a laid back, fun loving lifestyle. Even if your livelihood does not directly involve the beach life, you probably head outside whenever you can to enjoy the surf and sunshine. But when your house becomes a vacation beach home for pests of any kind, including termites, that can really harsh your mellow. When you have unwanted guests, you need termite control service estimates from the best termite control companies in Laguna Beach CA.
Treebark Termite and Pest Control Laguna Beach
594 Brooks St, Laguna Beach, California - 92651 United States

(949) 229-7793
Schedule Free Inspection
Adria Blackburn
00:59 10 Aug 18
This is a long overdue message of appreciation. From the initial contact, to the technician; professionalism, customer consideration, quality of service, and fair prices soars in this company. I highly recommend!
Maximo Gallardo
01:01 16 Jul 18
There are not enough good things to say about this company. They not only rid you of your pest problem, they follow up and treat you with courtesy and respect. I highly recommend you use Treebark Termite .
Faye Murton
08:19 28 May 18
The exterminator is very thorough, honest, knowledgeable, professional, and also probably the nicest guy I've met in a long time. Definitely make a bad situation better. Without hesitation, I will contact them again for any situation regarding pests.
Chris Wants
06:07 13 Apr 18
Wonderful service. Very prompt! Exceptionally thorough in their explanation of the service, treatments and what outcome to expect. For a good/fair price the house has been de-bugged, I'm satisfied.
Cortney Cowen
01:29 24 Mar 18
I've used Tree Bark Termite and Pest Control twice and I am very happy with the service we got from them. My realtor recommended these guys. I hesitate at first, but when I called them, I was really amazed with the staff I spoke over the phone. Very knowledgeable, friendly, professional and honest. They were able to conduct an inspection the next day and confirmed that they were living termites and pest living inside our house. They were able to get rid of them effectively and I am very happy that we are a pest free now.
Carl Zeitler
03:27 14 Feb 18
I have been a customer for 2 years now and we love Treebark Termite & Pest Control. Most technicians and staffs were great and willing to do an extra mile.
Sonya Mikayla
01:48 27 Dec 17
It was worth the shot. Well worth the results. Very satisfied customer and would not hesitate to recommend this business to anyone and everyone.
Ruth Goulard
03:28 23 Nov 17
Very knowledgeable about exterminating and told me exactly what to expect. The service was thorough. The only bugs I see now are already dead! I highly recommend this business to everyone!
Kayla Shaws
01:11 11 Nov 17
You guys rock! I can say you are the BEST TERMITE ELIMINATION Company in California! Eco friendly products, meticulous friendly helpful techs and excellent customer service!
Libby Barnes
12:26 25 Sep 17
Best experience overall compared to a few other companies that I have dealt with.
Harriett Tuttle
03:58 15 Aug 17
Great service and extremely responsive. They offer a seasonal guarantee which really put my mind at ease. Highly recommend, great professional exterminators!
Anjelica Hays
00:32 20 Jul 17
It's great working with Treebark. They have been really successful in their job, no more pests living in our home. Excellent communication & customer service. They thoroughly explained what needed to do and took time to answer all of our pestering questions and concerns clearly & without any hesitation. There was also no pressure after they gave us quote, but there was no doubt we would use this company again for any pest control needs. Prompt and accommodating exterminators, I really appreciate their flexibility, hardwork and work ethic. Definitely recommend them if you need any pest work done.
Adolfo Winciaspet
05:39 05 Jul 17
We've been delighted with the service we've received from Treebark termite and Pest Control for several years. They promptly respond to any issues, and are always professional and informed. It's well worth the investment to have their consistently responsive service on hand.
Muhsinun Chowdhury
03:42 30 Jun 17
I needed a termite inspection and treatment and this didn't even need me to leave my house!
Impressive Termite treatments that works 2 to 3 days to work unlike others who can take weeks to work. Concentrated treatment that paralyze termites and insects but safe for humans and pets. Treebark has an all around crew , can be carpenter, pest control, etc. Kudos!
Next Reviews
Naturally Derived Termite Control and  Organic Pest Control Service in Laguna Beach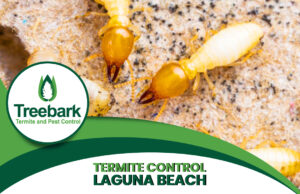 In other words, you need Treebark Termite and Pest Control Services, which provides the highest quality no tent termite control treatments in Laguna Beach CA. Using a proprietary, plant-like formula that is less harmful to people, pets and plants. The Treebark team can completely eliminate termites from your home within three months. The termite colonies will die. Your home will be safe from termite infestation for years to come.
TreeBark, the formula our team uses, is an enzymatic compound that occurs naturally within the bark of a plant called Ryania Speciosa. I have heard people describe this product and service as "the way Mother Nature Controls Pests." After researchers learned how to extract the compound, which is all natural and non-toxic. They also discovered that it is much more effective in termite elimination than traditional poisons. Traditional poisons and fumigations can also be harmful to humans and pets, and therefore require extreme precaution.
So how does TreeBark work?
TreeBark is tasteless and odorless, which means that when termites come into contact with it, they both ingest it without knowing, and transmit it back to their colony. Any exposed termite will spread the TreeBark to others and will succumb to lethargy and paralysis, beginning in the mouth and then moving into the muscular system, within a matter of hours. Eventually, muscle paralysis causes their death.
Schedule Free Inspection
The TreeBark product since it remains in place will continue to eliminate termites until the entire colony has been eradicated — and will deter any future colonies that attempt to make their home in your home.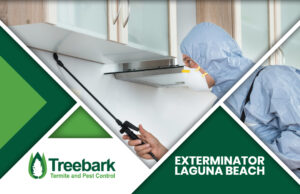 TreeBark's formula is effective in eliminating many other pests besides termites, as well. Ants, spiders, silverfish, cockroaches are all susceptible to the enzymes found in the TreeBark compound. Your home will remain bug- and pest-free. Think of the peace of mind that will bring you and your family!
You won't have to deal with the inconvenience of whole house tenting, there is no odor or fumes to endure, and — best of all — TreeBark is much more effective than conventional, poison based treatments.
The best termite control companies in Laguna Beach CA will provide potential clients with a free home inspection. Treebark Termite and Pest Control's inspection process is comprehensive. We will evaluate your home for the presence of 24 different insects and pests, not just termites. At that point, we provide an estimate for our services. We begin the process of protecting your home against the annoyances of many varieties of insects. Treebark protects against the devastation that termites can wreak upon a structure. Termite Control in Laguna Beach doesn't require tenting, call today for a free estimate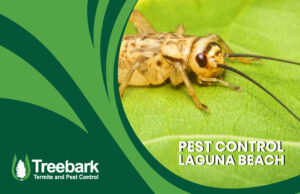 Our technicians will treat your home but also monitor it making certain the treatment has been successful. If any pests have survived our treatment, our technicians will return within 24 hours, at no additional cost to you. Now, that's a pretty good guarantee!
Commercial Termite Control Services
Treebark Termite and Pest Control can also provide termite control service estimates for commercial buildings. We understand that your business is unique and therefore need an individual solution. A solution to whatever pest problems may be plaguing the commercial structure of your business. We start with a comprehensive inspection and deliver a solution that will solve your termite or pest issues. Keep your building, your employees and your customers safe with our non-toxic approach to pest removal and control.
Whether it's your residence or your commercial property that is at risk for termite damage or is being infested by other pests, and you are looking for no tent termite control treatments in Laguna Beach CA, look no further than Treebark Termite and Pest Control. Termites cause an estimated $5 billion in damage to structures in the United States each year; do not let your home or business add to this alarming statistic. Call Treebark today to discuss your termite situation. Start immediately with a free inspection or estimate. Termite Control in Laguna Beach doesn't have to be difficult, call Treebark!
Call our team at (949) 229-7793 for a free estimate, or book an appointment using our convenient web form. Our professional team members are always courteous, knowledgeable, and responsible.
Schedule Free Inspection