Pest Control Aliso Viejo
I hope you find what you are looking for with our company. We are a local small business specializing in Pest Control Services in Aliso Viejo. If you are seeing any signs of general pests like spiders or ants, please think about using our services. We are an Organic Pest Control Company and A Natural Termite Control company. We are able to handle ALL of your pest control needs in Aliso Viejo. Please don't give your money to Terminix. They will just give bonuses to the executives to buy new cars meanwhile I will hire someone from Aliso Viejo to spray your yard. Pest Control in Aliso Viejo is big business support our company by allowing us to service your home.
Pest Control  and Termite Treatment In Aliso Viejo, CA
Termites do perform an important function in the natural world. These voracious insects assist in the decomposition of rotting wood and vegetation. They thrive in the wake of natural disasters such as floods, heavy storms, and brush fires because these events usually result in felled trees. A termite colony may nest near a decaying log, then spread into an adjoining residential area, for instance. Treating Termites in Aliso Viejo is Simple! Call Treebark!
The seasonal weather patterns in this hilly part of Southern California frequently contribute to unwelcome natural disasters. A sudden bout of rain may create conditions causing mudslides, for instance. The uprooted trees and decaying vegetation, in turn, provide an excellent termite habitat. This is their job in nature. They are the Recyclers of the forest. Ashes to ashes, Dust to Dust
Schedule Free Inspection
Termite Control in Aliso Viejo
As a master-planned community, beautiful Aliso Viejo serves as a showcase for gracious living in southern Orange County, California. Property owners here have continued to carefully safeguard real estate values since voting to incorporate as a city in 2001.
It scares home buyers and home sellers because termites create significant damage in the San Joaquin Hills. This lovely coastal region occasionally sustains weather conditions which indirectly contribute to the proliferation of termite colonies. They love the weather just like we do.
Termite Damage
Safeguard a Valuable Asset From Damage
In late March 2017, a popular real estate website placed the median value of a home in Aliso Viejo at $568,800. With many residential properties in the community featuring stunning mountain and city views, most homeowners who invest here hope to obtain appreciation eventually.
A termite infestation can damage residential property, potentially "eating away" an important financial asset. If you reside in this scenic part of Orange County, it simply makes sense to request regular pest control assistance. We offer free residential termite inspections. Ask us to help monitor the condition of your home and grounds. If we notice any signs of termite activity, we'll bring this information to your attention promptly. We strive for 100 percent findings and 100 percent control.
Unpleasant Termite Control Measures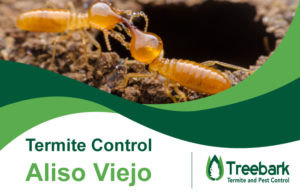 In the past, Californian homeowners sometimes dreaded the discovery of termites. The difficulty of eliminating infestations prompted some pest control firms to employ exceedingly toxic chemicals for termites control. Professionals certified to eradicate termites did not rely on termite spray alone. They often fumigated by tenting the entire residence and infusing the interior with noxious, foul-smelling poisons. The presence of potent residues sometimes kept the occupants of a treated home away for several days at a time. Don't place a disgusting bag over the home that has poisons that kill the planet inside. These are just bugs, you can step on them. No need to kill or harm the planet.
Fortunately, today we've learned how to treat for termite or pest control Aliso Viejo, in house and garden far more effectively. Our firm utilizes a proprietary, state-of-the-art termite treatment obtained from the bark of the Ryania Speciosa tree, a native of South America. We use chemicals for termites control with a strong reputation for safety around pets and people. You won't even need to temporarily vacate the premises when we apply termite treatments! We do not damage your roof nor do you bag your medicine like Fumigation.
Vigilance: The Best Defense
To protect your Aliso Viejo property from termites, pest control remains the best defense! You'll want to call for inspections by trained professionals, so you can instruct a pest control firm to take prompt action to control any termites which burden the property. How to treat termites in house and yard settings often depends upon the severity of the problem. In some cases, the use of natural predators will effectively control outdoor termite populations. Treating Termites in Aliso Viejo doesn't have to be hard. Call Treebark and use Treebark Final!
If a colony has infested the premises, don't rely on an off-the-shelf insecticide as a termite spray. Instead, ask us to apply our reliable termite treatments. We can return and repeat the application if necessary in order to help you maintain your residence in a pest-free, secure condition. We possess effective, efficient tools for eliminating termite colonies from your home.
Schedule Free Inspection
We offer complimentary residential termite inspections in Aliso Viejo. We'll check for signs of infestation and notify you promptly regarding our findings and provide a written estimate.
You can use the convenient website form to schedule a free termite inspection. Alternatively, simply call us at 714-406-4919 for Treating Termites in or Pest Control Aliso Viejo.
Why Should You Use Treebark for Pest Control Aliso Viejo

We hope you choose Treebark Termite and Pest Control. Treebark is a small local family owned business who depends on your support for survival. I appreciate and value the business more than the big national brands. Thank you for coming to our site and giving us the opportunity to earn your business. Due to us being a smaller business economic downturns affect us more severely than the national brands. The annual extension for our service is reasonable and therefore fair. We look for new areas of termites to treat for free under your warranty. This saves you time and money. We maintain the standard of your home. This service is invaluable to aging homeowners unable to service their home as they once were. We use essential oils for pest control.
Termite Control Aliso Viejo
We offer a Natural Termite Control service in Aliso Viejo that covers these Termites:
Subterranean Termites
These termites are so destructive that we treat for them preventatively in our Treebark Final System. Competitors make the mistake of treating for only one of the termites of termites in Aliso Viejo then have to charge the customer more money later! Yuck!
Drywood Termites
Almost every in Aliso Viejo Southern California has seen these guys. The black body redheaded flying alletes of the drywood termite. Gross. We treat for these guys too. Don't fumigate your house, let us look at it first.
Pest Control Aliso Viejo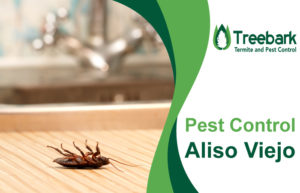 We offer an Organic Pest Control service in Aliso Viejo that covers these bugs:
Ants
Because Ants and Termites react the same to our Organic Pest Control Service we recommend staying on our Quarterly Inspection and Maintenance plan.
Spiders
We have to spray the walls and knock the webs down from the eaves. This makes the spiders walk through the chemical and they die.I don't recommend spraying on the bushes or the trees around the property. I did that once and I had hundreds of flys instead of spiders that summer. Nature is an ecosystem. Its careful balance controlling pests without enabling another pest.
Crickets
We spray the entire yard with an Organic product that repels crickets from the property. We make your home smell annoying to them with our essential oils!
Cockroaches
These things are everywhere in Aliso Viejo, if you haven't seen them yet you will. The best offense is a good defense and our general pest program will prevent these from coming to your house.
Fleas
We treat the eggs of the fleas with an IGR meanwhile hitting the adults with a spray. The eggs hatch but cannot replicate and die without breeding.
Total control in under two weeks.
Exterminator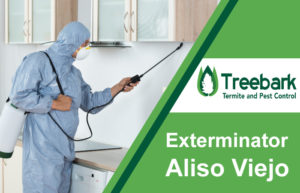 We offer rodent control services that include abatement. This seals the house meanwhile trapping rats and mice inside. They will get desperate for water and begin to hit our traps for the moisture the bait contains. Once the rats have started eating the bait, it is only a matter of time before they get comfortable with the traps and die. We schedule service calls every week for the next Month so that we can collect the carcasses of the dead rodents. I know this sounds bad but please bear in mind that they are up there peeing and pooping ALL OVER your insulation.