Termite Control in Torrance
Torrance's climate is the perfect breeding ground for termites. Termites can cause significant damage to a house, and their infestation does not necessarily call for fumigation. Southern California has two different types of termites. We have the drywood termite and the subterranean termite. Both of these termites can cause a lot of damage to your home, but only one dies via fumigation.
Treebark Termite and Pest Control Torrance
3868 Carson St., 3rd Floor , Torrance, California - 90503 United States
(424) 252-2287
Schedule Free Inspection
Jared Spencer
12:30 09 Mar 21
Thanks for the quick pest control treatment. I am satisfied with the excellent work done by you guys.
Troy Spencer
11:52 09 Mar 21
Their staff members are very polite and knowledgeable. I am glad I called these guys for helping me. Great service!!!
Julia Young
08:10 08 Mar 21
Called Treebark for getting the pest control work done in my residence. I appreciate the quick work done by them. Great services.
The Treebark team treated our home for insects and pests both inside and out. If the rest of the treatments go like this one I will be extremely pleased and satisfied!
Christopher Bishop
09:11 20 Feb 21
The pests had built their nests in some of the hard-to-reach spaces inside our house. We contacted Treebark for urgent pest control. They arrived right on time...and removed all the nests. Thank you so much treebark.
Joshua Ellison
06:47 18 Feb 21
Excellent service! I finally got rid of the insect's problem. Treebark turned out awesome.
Nichole Olson
07:01 12 Feb 21
Just to thank you guys for cleaning out all the crawlers from our house. I will surely call for your service again in the future.
Robin K Coughlin
06:09 09 Feb 21
Glad to have such a professional pest control guys after 2-3 terrible experiences. I have enough reasons to call Treebark team again. Will soon contact for mice issues.
I noticed red ants residing in my house, and they created such a fuss in the house. But, after Treebark's pest services, all the red ants have disappeared.
Annabelle Reynell
13:25 03 Feb 21
Even after 06 complete months, I can't see any mosquitoes around. Treebark made my day!
Stella Easterby
13:05 02 Feb 21
Their attentive and responsive nature makes them the best pest controllers in town. I am really pleased with their services.
Clara Robinson
07:07 01 Feb 21
Their team killed all the cockroaches in my house. I was terrified because of them. TreeBark helped me to get rid of them with their pest control services. Good work!!!!
I am a long time customer and have always been very pleased with the excellent pest control services provided by the Treebark team. They provide excellent customer service and are very trustworthy. I highly recommend them.
Jessica Amaral
06:42 22 Jan 21
We had a whole large house infested by Treebark team! Now, the place is with calling a perfect home!! No pests!!
Ronnie Alvar
00:24 22 Jan 21
Arrived earlier than the set time of appointment. They did the rodent inspection asap, found a few traces of passing by rodents but didn't found their holes. It seems like it's the neighbor's rats. Thank you for the help in blocking all the possible entries. Will suggest you to my friends.
Next Reviews
Drywood Termite
Drywood Termites have black bodies, red heads, and have wings. These guys like to swarm in late summer and fall. You might start seeing signs of these termites starting early July, as they start pushing pellets out. The pellets look like little piles of sawdust. As it gets closer to fall you'll see the swarmers out flying around looking for a new home to destroy.
Subterranean Termite
The subterranean termite is a small black bodied bug. People might think they are ants. These termites come from the ground and create tube-like dirt piles. You might see these dirt tubes forming on the side of your house that looks just like dirt and you think nothing of it. But low and behold you could have a serious and costly problem on your hands if not treated and controlled.
Termite Control Services in Torrance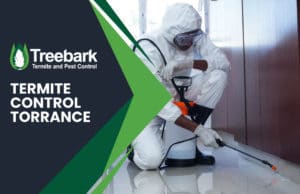 Treebark Termite offers annual termite inspections, pest control services, and wood replacement.  Treebark's organic, and natural area treatment contains concentrated naturally occurring enzymes that act by causing paralysis to the termites and insects that is from a South American plant called Ryania Speciosa. Total control in under 24 hours. Guaranteed.
Termite Control Inspection in Torrance
Before controlling or treating of termites, a  termite inspection must be done to determine the level of infestation and damage. This recommends the most effective method of control and treatment. Termites travel long distances in search of food. If there is an infestation in your neighbor's home, then there is an infestation in your home too.
Purpose For a Termite Control Inspection in Torrance
The purpose of the termite inspection is to determine where and how the termites enter your home. During a termite inspection, different signs of termite infestation are looked at. The first thing someone detects is fecal matter and tunnels built by the termites.
Termite control specialists visit the site of infestation and determine the type of termite that has infested the house. The companies offer inspection and recommendations on best control methods for free. The examination helps in recommending a treatment plan that will rid all the termites and prevent any future infestations.
Termite Control Treatments in Torrance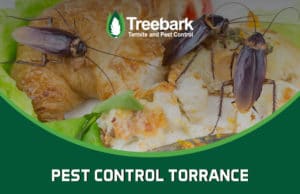 Treebark Termite in Torrance offers to control and preventing your termite and pest issues. There are different types of termite treatments. A general applying process, crawling area procedure, and porch treatment achieve effective termite control. The general applying procedure involves the application of soil treatment, or structural repairs, and or local treatment.
You should call me right now
We are a small local pest control company in Torrance. We run pest control routes in Torrance daily, we can be out today for service. Please give us the opportunity to bid your project. We value the business and are grateful to compete for it. Thank you for reading our website. Treebark hopes that you make the decision to pick up the phone and call us today. We have agents standing by to book your visit. The inspections are free and come with estimates and brochures.
Termite Control in Torrance Doesn't Mean Fumigation
People do not see how many homes use an alternative to fumigating methods successfully. Our process includes natural and organic treatment options. We do not cut corners and our technicians have been "at it" for decades. We don't have run of the mill employees found at shim sham places. If your looking for Termite Control in Torrance you have come to the right company. We know what we are doing when it comes to termite control and we have been servicing Torrance for many years.
Schedule Free Inspection