Treebark Termite Control and Pest Control Orange
Once upon a time, Orange was a city of Orange Groves. Transporting acres and acres of locally grown oranges to market. The population exploding after the second world war means many acres of Orange Groves cut down for housing. During the removal of Orange Groves, developers would cut the trees from the base leaving the root structure intact. Subterranean Termites LOVE underground wood. The city of Orange has a lot of Subterranean Termites because Orange has a lot of underground tree roots to feed on. Termite Control in Orange doesn't mean living with other bugs! Use a treatment that controls all bugs and termites
Treebark Termite and Pest Control Orange
967 N Eckhoff St, Orange, California - 92867 United States
(714) 274-2656
Schedule Free Inspection
Dana Wilson
06:51 13 Mar 21
The company is awesome. Always sends their team on time, whether it's an emergency or a normal call.
Jessica Lambrick
08:20 11 Mar 21
Thank you TreeBark for fumigating the backyard of my house. Now, my house is free from mosquitoes and insects. Keep up the good work!!!
William Morgan
07:25 11 Mar 21
guys arrived quickly at our house, were super prompt in their work, and did a fine job in exterminating all the pests.
David Schmalz
07:10 09 Mar 21
What I appreciate the most about Treebark is their patience while they paid attention to my requirements and expectations before they started with their pest control.
Boris Watson
07:24 05 Mar 21
Sprays have been so effective. No bed bugs have appeared after last treatment (3-5 months before).
Kelly Jackson
07:19 02 Mar 21
Can't thank both the technicians enough! I can see not even a small rat in the garden. Excellent work!
Fealty Devoe
11:37 26 Feb 21
No termites! Perfect work, Treebark. I appreciate your hard work.
Highly recommend this amazing company. They have amazing technicians, everyone is very knowledgeable. The only place I will ever use!!!!
Melisende Boutin
06:42 19 Feb 21
I got an immediate response from support guys and half of the concerns were addressed over the phone (no charges for it). Later, I had a great pest removal experience. Nice.
Bellamy Perrault
06:57 17 Feb 21
I noticed there were pests all over my garden and they even started to enter my house. I called TreeBark's team for their immediate help. And, I am proud to say that they fumigated the garden and my house within an hour and killed all the pests. Appreciable!!!!
Kylie Langdon
05:59 11 Feb 21
The team assisted me on quick notice. Just because of them, I could shift back to the old house which is 100% pest-free now.
Luce Thibault
06:40 06 Feb 21
Great job, professionals!! All the pests have become vanished from our house. And here the entire credit goes to you guys. Thank you.
Debra Mullens
06:17 03 Feb 21
Entire team leaves no complaints in performing pest control at my store. Fabulous...
Luis Carlos Overa Rojas
07:06 28 Jan 21
I would have stayed at the rest house if the Treebark team have denied coming to my place during the emergency. Thanks a lot for a home with ZERO pests.
Debra Chavez
06:36 27 Jan 21
Good enough if you can consider listening and implementing their tips. By doing these, I got a kitchen that doesn't have even a single cockroach now!!
Next Reviews
Termite Inspections in Orange need to Focus on These Areas:
Licensed inspectors should be inspecting all areas of your home. While every review should be complete, there are certain areas of the check-up that should be focal points. These areas listed below are some of the most common areas of infestation for the city of Orange. Do not let termite companies short these areas
Exterior Wood Pieces
Homes within the historic district of Orange have a high exterior wood count. The California Bungalow (https://en.wikipedia.org/wiki/Bungalow) was constructed during the city's incorporation. This style of home uses a lot of exterior paneling, window trimming, and fascia boards. The exterior of these custom homes needs inspecting every year.  Old Towne Orange can be difficult to work in because the city requires permits to work on the historical homes. Want to change your front door? be prepared to ask the city for permission. They will inspect the existing door AND the door we put in. Historical homes take professionals. We have done them before and know what your home needs to pass city code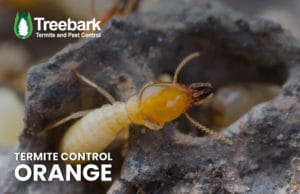 Attic
All attics need to be inspected per Structural Pest Control Boards guidelines. Orange is no exception. Homes in Orange need to be examined more thoroughly in the attic as infestation from the exterior is more likely. Termite Damage inside the Attic is an indicator that there is an infestation within the walls. Proper inspection and diagnosis of treatment required for total control. Inspecting the attic should take more than 5-10 minutes. If your inspector does this portion quickly, chances are that he has missed something.
Sub Area
The original plans for the homes built during the city's incorporation included raised foundation homes. Houses being built in 1955 is likely to have a sub-area. These areas have an access point inside or outside the home for entry. Often this area is one of the least inspected areas of the home due to the difficulty of entry. Regular inspections should take place. I mean most people haven't been under their own house in years. Think about the last time you were under your house. Pay someone like me to go underneath there.
Garage Framing
Typical Orange construction included a single car detached garage located in the back of the home. A long driveway is not uncommon for parts of Orange because of the Detached Garage. It should be inspected thoroughly due to most residents choosing not to drive into the garage. I have seen cases where the driveway is for parking. Storage needs inspecting annually as otherwise, infestation builds sight unseen.
Why Does Orange Suffer from Drywood Termites?
Drywood Termites have a smaller colony size and shorter maturation cycle. Shorter maturation periods allow for the colony to produce winged Alates much quicker than Subterranean Termites. Once the Swarmers have been born, they prepare for flight and re-infestation elsewhere. In clinical studies, Subterranean Termites usually take five years to produce Swarmers whereas Drywoods 2 years. This allows Drywood Termite colonies to spread more rapidly leading to widespread infestations citywide.
Schedule Free Inspection
How to Control Termites in Orange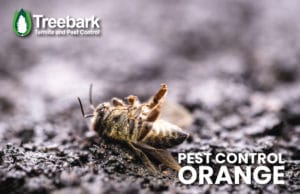 Treebark Termite and Pest Control tackles termites from the "everything or nothing" approach. We only perform services that control all termites on the property not just Drywood or Subterranean. Competitors of ours might offer Drywood Termite Control via Fumigation (tenting the structure) while not addressing the potential for a Subterranean Termite Attack. This causes frustration when a Subterranean infestation appears at a later date. These types of competitors seem inexpensive until you add their prices up and compare to our regular Treebark service. Covering both types of termites is the solution.
Things You Should Consider About Termite Control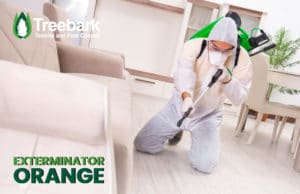 My Technicians are Live Scanned (FingerPrinted), Drug Screened, Licensed, Bonded and Insured. Fumigation tarp guys do not submit to any of these things. In my opinion, there are burglaries because of it. Yes, you might trust the field representative you're speaking with, but do you trust the tarp guys who show up to actually do the work? Remember, their fumigation tarp guys are going to be inside your home, opening your cabinets and drawers. Not the salesman.
Long Term Termite Solutions
How long do you plan on being in your home? If you plan on staying put, prevention and maintenance is the best solution. Letting termite damage build is a recipe for disaster. Estimates for termite damage repair come back in the THOUSANDS. Wood ain't cheap and we are running out of it. A bill today might be 20% higher within 18 months. I have seen this so many times, people put it off and the lumber yard goes through a price hike.
What are your standards?
As you age performing the maintenance of the house becomes harder. Hire us to maintain the home to your standards. Termites and Pests are not acceptable. They are dirty, filthy, disease-carrying problems. These pests must be dealt with immediately before your family's health is at risk. Termites cause all sorts of other issues, including rot and weakened wood. Whatever your standards are, we maintain them.