Treebark: Enjoy Safe, Reliable Termite Control in Laguna Hills
To request a free termite inspection now, simply call (949) 416-0256
If you've lived in your residence in Laguna Hills for several years, you may assume you know every inch of your property intimately. Most people can close their eyes and mentally envision the kitchen, the front entrance and the back door without difficulty. Some folks can even vividly describe the yard, and the views through different windows.
Yet do you really know everything about your Laguna Hills home? Or could your real estate hold hidden secrets you should uncover? When it comes to one topic in particular, a lot of homeowners find themselves in denial. Not many people even like mentioning the word: termites!
Treebark Termite and Pest Control Laguna Hills
27151 Woodbluff Road, Laguna Hills, California - 92653 United States
(949) 416-0256
Schedule Free Inspection
Joseph Morin
08:13 20 Mar 21
What a fabulous team synchronization. No more rats, lizards, and rodents. Relieved.
Sawyer Harrell
08:29 15 Mar 21
Our termite issue has vanished completely. Thank you.
Evan Travis
07:44 13 Mar 21
The team could spray both the interior and exterior in a day. Took no extra time, but completed work with perfection.
Demiray Namli
07:28 03 Mar 21
The team came on time, inspected the area in an hour, then sprayed thoroughly. Charges were also reasonable. And no more critters!
Sean Oliver
07:30 26 Feb 21
After the pest control, it seems all the insects have disappeared and my plants are safe again.
Laura Sofía Berrocal
07:53 24 Feb 21
I would love to recommend your services for any pest control work. Well done!!
Debra Matter
07:45 18 Feb 21
Treebark's team deserves 5 stars for quickly killing all the pests in my garden,. Thanks:)
Isaac Ince
07:18 09 Feb 21
Happy with how the team quickly visited our house and completed the pest control work in such a short time.
Benjamin Kelly
07:17 08 Feb 21
Happy with the excellent pest control job done by the professional team. You guys were just amazing.
Faith Reid
07:44 06 Feb 21
Again an effective pest control work done by the professional technicians of Treebark. These guys are just amazing.
Megan Sharp
07:37 30 Jan 21
Highly satisfied with your services for making my house into an ant-free one. They were so irritating. Your team really works hard. 5 stars.
Spencer Parramore
07:00 27 Jan 21
Probably the best pest control service provider I have ever dealt with. Thank you.
Capucine Prideux
08:03 25 Jan 21
Such great services for a long time. These guys leave no stone unturned until the work is done. Fabulous!!!
Rashad Church
01:04 23 Jan 21
They were easy to work with. They provide the best and honest service. From inspection and the treatment was not easy but since they are pros, they made it all look easy. Thank you!
sally hazel
07:44 22 Jan 21
Team initially came for red ants removal, but then they also got rid of mice in our garden area. Made our life a lot easier. Will call them again if needed.
Next Reviews
Termites: A Silent Real Estate Threat
If you've ever considered seeking termite control services in Laguna Hills, you've probably already researched the threat these voracious wood-eating insects pose to real estate across Orange County. Since they reside in teeming colonies (they share a common ancestor with cockroaches), it seems startling an infestation typically occurs in silence. Homeowners frequently fail to observe termites in action.
Termites burrow, chewing channels through the solid boards and lumber underlying framed construction. They sometimes infest roofs, wooden siding, landscaping or flooring in homes and businesses in Orange County. In fact, scientists estimate termite damage worldwide accounts for a staggering $5 billion in losses every year! The scope of this problem explains why termite exterminator companies in Laguna Hills CA frequently find their services in high demand.
Tiny Insects, Big Bills
Homeowners concerned about a possible termite problem may catch themselves wondering: "How much does termite treatment cost in Laguna Hills?" Perhaps this line of thought begs an even more important question: "How much would failing to detect and eliminate termites ultimately cost?"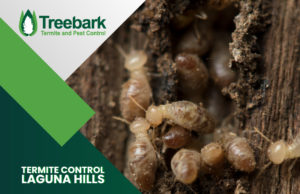 The expenses associated with a termite infestation sometimes prove hefty indeed! Just consider some of the potential bills these insects inflict:
An infestation may potentially transform a simple roof repair into an expensive roof replacement project;
Termites contribute to accidents caused by rickety stairs and decks, tilting fences and weakened flooring;
In some cases, their presence has resulted in real estate sales contracts collapsing;
Termites may contribute to higher home insurance premiums and expensive property renovation costs.
An Important Breakthrough
In the past, some environmentally concerned households hesitated to seek termite control services in Laguna Hills because the process of eliminating termites seemed so daunting. Since these insect colonies populate the interior of wood, pest eradication services employ potent toxins in an effort to destroy them. Measures designed to kill termites sometimes accidentally have poisoned beloved pets, wildlife or young children. Termite control in Laguna Hills doesn't have to be dangerous
Fortunately, a recent breakthrough gives everyone concerned about insecticide safety issues a reason to celebrate. Our company relies on an innovative new termite-control substance derived from the bark of a South American tree called "Ryania Speciosa". In the amounts we utilize, this product eliminates termite colonies effectively without harming any mammals. It won't damage human beings, dogs, cats, horses, or field mice. Yet it kills termites!
Obtain Helpful Assistance
We realize the issue of termites sometimes distresses homeowners in our community. This part of Orange County experiences climatic conditions which contribute to periodic termite population booms. Perhaps you've even heard friends or neighbors debating "How much does termite treatment cost in Laguna Hills?". If you've wondered whether termites pose a potential problem, we can help! Termite Control in Laguna Hills doesn't have to be expensive or invasive! Let us help!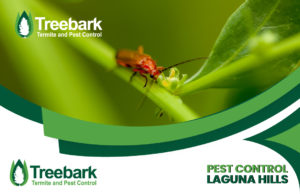 We offer completely free termite inspections. We'll gladly answer questions about the process of eliminating termites (and other insect infestations) during our visit. You may discover the cost of getting rid of termites has become surprisingly affordable, in fact. Considering the extensive damage these insects produce, seeking the elimination of termite colonies should probably occupy a high position on the property "to-do" lists of most homeowners in Orange County. Termite exterminator companies in Laguna Hills CA perform a valuable service.
Further Information on Termite Control in Laguna Hills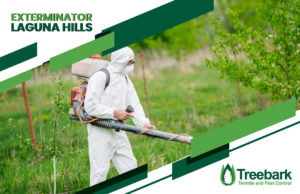 Do you know anyone who might benefit from a free termite inspection? Identifying a termite infestation as rapidly as possible permits treatment measures to begin promptly. Taking this step sometimes saves property owners a lot of money! To request a free termite inspection now, simply call (949) 416-0256 now. We assist residents throughout Laguna Hills!
Schedule Free Inspection