Termite Control in Santa Monica
Got Termites? If you are seeing Termite Droppings or Termite swarmers and are in need of Termite Control Services in Santa Monica, Call today for a free inspection and estimate. Termite Control in Huntington Beach is not the only fumigation. If you are looking for termite services that do not require you to move out, do not use poisonous gases or cause plant and roof damage, call us today. We can have an inspector out to your home likely the same day. We provide a thorough inspection, a written estimate and termite control that is effective without fumigation. Call now for a free in-home inspection and estimate.


Treebark Termite and Pest Control Santa Monica
1450 Second St, Suite #144, Santa Monica, California - 90401 United States
(424) 252-2283
Schedule Free Inspection
Kelly Cortes
07:48 20 Aug 19
We have been grateful for your for your timely and reliable service over the past years. Very happy to recommend your company!
Luz Martinez
07:31 19 Aug 19
We are very happy with your services and especially with your representatives. Highly Recommended!!
Albin Shields
11:49 16 Aug 19
They treated the yard to kill the termites and their eggs. The guys were on time, nice, and helpful. Thumbs Up!
Scott Prince
08:52 10 Aug 19
Very professional, kind, cares about their work, takes time to explain what they are doing to you, very detailed. Thank you!
William Black
13:15 09 Aug 19
I haven't seen a single bug in my entire house from the day you guys have visited us. Good work!
Minnie W. Ferber
12:55 06 Aug 19
I was facing issues with pests, tried various methods to get rid of it. Buy unfortunately none of them really worked. Then I approached Treebark termites and Pest control. They came and sprayed the chemicals and treated the surrounding well. 5 stars for their service.
Leonard Mills
06:38 02 Aug 19
Switching to Treebark Termite and Pest Control was my best decision ever. Their technicians are great to work with and know how to make their customers happy. Thanks to them I never face any pest issues at my home now.
Alexis Hall
13:13 15 Jul 19
We were suffering from mice problem since last month. Though we used many methods to get from this problem, nothing worked. Finally, Treebark Termite and Pest Control helped us to get rid of this problem. They not only caught all the mice but also blocked the hole from where they were entering our house.
Pierpont Pinneau
09:54 02 Jul 19
This is one of the best pest control company to work with for eliminating any pest problem. Their technicians are experienced and well-trained in the newest procedures to solve whatever your problem is. I have been using their services for several months now and I am highly satisfied and impressed with them. Thumbs up.
Next Reviews
Free Termite Inspection in Santa Monica
There are a few areas in Santa Monica homes that MUST be inspected annually. Termites and Pests have evolved knowing that once detected their lively hood is at risk. They have become the ultimate "Hide and Wait" creatures often appearing in the most inconvenient times. knowing the hot spots and the areas that they prefer is crucial in detection. Let's go through a short list of extremely important inspection areas:
Attic
The attic opening in most Santa Monica homes is going to fall into two places, inside the closet or in the hallway. Infestations inside the attic are usually caused by one of two scenarios. Scenario 1 assumes the infestation first occurred from the outside rafter tails leading the termites inside.
The other Scenario, 2, would be the infestation occurring when a swarmer entered the home attic from a vent. Most attics have vents on both sides of the home for ventilation. Swarmers enter the home through these ventilation vents. We typically see infestation around the sills of the vents.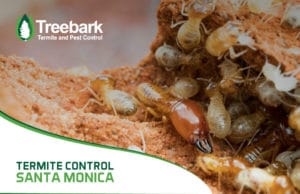 Sub Area
Being honest with yourself, when the last time you went under your home? I have asked this question maybe 1,000 times over my career and the answer is always the same. Too long to remember. This is very problematic as Termite Damage can occur in as little as two years with dry wood and 4 years with subterranean. If it has been years since the last time like many, you likely have an infestation causing damage.
We are dealing with nature. Termites are present in trees, fences, and underground. They are not specifically targeting your home but seeing as all the wood under your home is exposed… They can "Smell" it and head straight for it. These insects have evolved over the years to be extremely capable of finding wood to infest.
Garage
Another hotbed of infestation. Garages due to the wide-open nature of them and a lot contain exposed unfinished wood studs. We see a lot of infestation around the garage door jam. Once inside they spread to the other members of the structure. Garages are able to be self inspected. If you are seeing droppings or experiencing sand like pellets that return after sweeping, chances are you have a dry wood termite infestation.
Exterior Wood Members Like Rafters and Fascia
The most common of all the areas mentioned. The exterior of your home gets attacked by flying termites every single year. No joke. If you don't have an infestation today chances are over the years you will have one. Just a matter of time. Inspecting the exterior of your home by yourself is much harder as the wood is often primed and painted.
This causes the termites to eat from the center of the board first. Damage beneath painted surfaces can take a few years of damage before the paint breaks under the stress and reveals just how much damage has occurred. Even thought out of season, we get tons of calls around Christmas for Drywood termites from people putting their Christmas lights up.
Schedule Free Inspection
Pest Control Services in Santa Monica, Treebark Termite and Pest Control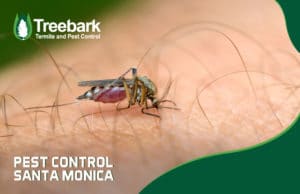 If you are in Santa Monica and looking for pest control services please give us a call. We have an Organic Pest Control Service that is low impact and with proper IPM techniques is just as effective as the traditional pesticides that have proven to be extremely toxic. We control all different types of general pest control and I have compiled a list of the most common insects we get calls about:
Ants
Spiders
Roaches
Fleas
Crickets
How Much is Pest Control in Santa Monica?
Everything I mentioned above is included in our general pest control service. We charge $90 every three months to come back out and reapply the organic barrier. If you see anything return during the 90-day treatments, call us and we will be back out within 24 hours. We sometimes are forced to charge an additional cost up front for Roaches and Fleas as they require multiple return visits for complete control.
How Often Should I have A Pest Control Spraying
Every three months. Sometimes depending on season you can get away with more or less, but in our experience every 90 days provides the best overall effectiveness
Schedule Free Inspection
Exterminators In Santa Monica, near Me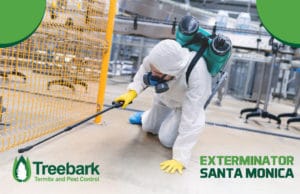 We are full-service pest control and exterminating company. If you are seeing termites, pests, and or rats, call us today for a free inspection and estimate. Exterminating for rodents, rats, and mice doesn't have to include poisons that place your family pets in harm's way. We use the 300-year-old rat trap technique. You might think "Well I can do that" No. No, you can't. You have already tried that's why you are here. Don't use baits. They are pure poison and because anything that consumes the bait is now poisoned anything that eats the carcass is also capable of being dealt a deadly dose of poison. Lots of terrible companies out there open the attic hatch, chuck bait around and then come back later hoping for dead rats. I cannot tell you how many dead rats in walls I have seen over the years. Gross.
Schedule Free Inspec
tion