Treebark Termite Control and Pest Control Mission Viejo
Treebark Termite and Pest Control tackles termites from the "everything or nothing" approach. We only perform services that control all termites on the property not just Drywood or Subterranean. Competitors of ours might offer Drywood Termite Control via Fumigation (tenting the structure) while not addressing the potential for a Subterranean Termite Attack. This causes frustration when a Subterranean infestation appears at a later date. These types of competitors seem inexpensive until you add their prices up and compare to our regular Treebark service. To not be covered for this or that type of termite after treatment is not a solution.
Treebark Termite and Pest Control Mission Viejo
27201 Puerta Real, Suite 300, Mission Viejo, California - 92691 United States
(949) 272-8965
Schedule Free Inspection
Mitchell Steven
16:56 01 Nov 22
In every way, the man we dealt with was a pro. Prompt, friendly, and well-informed. He was proud of the quality of his work, and it showed. I have no reservations about recommending this business.
Knocke Kuchan
08:04 31 Oct 22
I adore this company! Reasonably priced, excellent service, and outstanding customer service! We can enjoy our backyard without fear of being devoured alive! Thank you very much!
Diskind Blenker
07:27 27 Oct 22
We had to call Treebark Termite three times for wasp bykes, and each time they responded immediately, typically the same day, and dealt with the problem swiftly and effectively. I would absolutely suggest them since their service is outstanding.
Maciel Eakin
02:05 26 Oct 22
This company responds quickly to your demands. I phoned, and they arrived as fast as I requested, and I had the findings the same day. I like this organisation and its personnel for their knowledge as well as their friendliness and ease of communication.
Faltz Enrique
01:57 24 Oct 22
I don't even have bugs, yet I get sprayed once a month just to be cautious. dave is awesome, and the pricing is quite reasonable.
Kane Logan Julius
00:45 22 Oct 22
Treebark is by far the greatest! They are always friendly, helpful, and professional. They go above and beyond, and they always communicate what they're doing and why they're doing it. I can't speak highly enough of them.
Zadroga Tarka
08:05 18 Oct 22
I've been using this service for two years and they've never been late for an appointment. We had to spend money on targeted treatments at the ground level apartment, but it was definitely worth it because we haven't had any difficulties since. This firm comes highly recommended by me.
Bosco Effler
10:07 16 Oct 22
Saul was very professional and took the time to explain everything to me. He made some excellent recommendations. I wholeheartedly endorse him.
Tobias Mariusz
14:39 15 Oct 22
Treebark's crew was hired to do a subterranean termite treatment. They worked fast and professionally, cutting holes in the concrete or trenching around the home before injecting the poison into the earth. Then they went into the crawl area and treated some of the foundation walls and posts. They offered me hope that this therapy would be effective for a long time.
Cameron Cox
06:44 15 Oct 22
I had a serious pigeon issue, termites inside, and fungal damage on my home's trim. They were quick to fix all of my issues without any nonsense, which I much appreciated. Treebark Termite and Pest Control worked with me until I was entirely satisfied and pest-free. It was such a hardship having all of those insect issues, and I am so relieved to have discovered a firm that genuinely cares about customer service. They've got a customer for life.
Solberg Dewing
07:51 13 Oct 22
Treebark performed an excellent job eliminating fungus from my first house. They are really nice and explain everything that will be fixed to me, as well as how to maintain it once it has been fixed. They arrived before me, waited for me, and worked quickly yet correctly without delay. They even had a look and fixed some small issues that were not highlighted in the report. I'm quite pleased with it.
Nora Arthur
18:20 12 Oct 22
On time, courteous, respectful, clean, and comprehensive. Excellent work! They searched for breaches around the house's exterior before placing bait boxes with non-poisonous lure.
Normand Marcoux
15:09 10 Oct 22
I just moved into a new home and discovered that it was overrun with spiders. I called Treebark in the afternoon, and a technician arrived the next morning. Tons of Black Widows were slaughtered. I'm pleased I made the call. Service is prompt and kind. Reasonable cost…
Angela Rees
06:14 14 Dec 20
It was quite impressive to see that your team uses top-notch chemical products which is safe for the environment!!
Rebecca Vance
05:42 28 Jul 20
Great team collaboration and very effective pest control treatment. I would give 10/10 to Treebark for giving us a safe, mosquito-free, and fresh home within the budget. Keep up this good work!
Next Reviews
What Types of Termites does Mission Viejo Have?
Subterranean Termites
Mission Viejo because of its wooded forest history suffers from Subterranean Termites. Termites forage underground for tree roots and other cellulose material to feed on. In my experience, any city with a history of forestation is susceptible to Subterranean Termite colonies being present. Mission Viejo is also unique in that it has small bodies of water which also attract Subterranean Termites.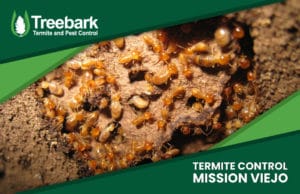 Subterranean Termite Treatments
Bait Stations – Bait stations are a passive method of Subterranean Termite control. These companies install bait stations around the perimeter of the property by using a post dig shovel. Digging into the yard/grass/concrete, they drop the station into the hole. The top of the bait station is a lid. Once installed the top is opened, and a piece of wood with a pheromone is dropped within. A technician checks the location periodically for termite activity. When Subterranean Termite activity is detected a new piece of timber containing an active ingredient to kill the termites is used. There are two main drawbacks to the system. Time and Risk. It takes time, sometimes years, for a colony to locate a random piece of wood around your home. You could be paying several times more for this treatment without actively killing the colony. The risk of canceling your policy and having the pheromone left scattered around your property acting as an attractant is just a dumb idea.
Liquid Termite Treatments – Homes with active and damaging Subterranean Termite infestations require immediate control in my opinion. This direct control is always done with liquid termite treatments as it places termiticide directly where the infesting termites currently are. There is no waiting for a little piece of wood to be found. This termiticide stops the damage and prevents re-infestation for the shelf life of the material used. The downside to this treatment is drilling the dime-size holes in your concrete. We do this to get the termiticide underground where the colony lives.
Drywood Termites
In Nature, Drywood Termites place a crucial role in the ecosystem of many forests and wooded areas. Evolving the termite was out of the necessity of removing dead trees and other cellulose plants which is dying or has become ill (yes trees get sick). Drywood termites attack trees, and because of their smaller colony size and quicker maturation, they will swarm faster, spreading quicker. In areas like Mission Viejo with a high population density and a high concentration of trees, Drywood termite infestations are common. The termites can migrate from home to tree and vice versa. Protecting the home from future re-infestations is critical in cities like Mission Viejo. Without prevention, control is nearly impossible.
Drywood Termite Treatments
Fumigation – Drywood Termites stay within the piece of wood they are infesting inside. They do not have any relation to the ground. Fumigation is only a Drywood termite control method as it eliminates any living breathing organism within a structure. Drywood termites cannot escape the poison gas and therefore die. Fumigation while effective has some annoyances like plant damage, roof damage, broken tiles and removing of food.
Localized Termite Treatments – Spot treatments have been around since the beginning of Termite Control. The inspection locates the termite infestation for a technician to come back around and treat with a liquid termiticide. When done correctly, spot treatments have the potential to save the homeowner money. The drawbacks to spot treatment include missed infestations and additional treatments that require more money.
Pest Control Services in Mission Viejo
If you are seeing pest control issues in Mission Viejo call Treebark Termite and Pest Control Mission Viejo Ca. We look forward to serving you and your family. Treebark offers an Organic Pest Control Service in Mission Viejo. We can be nearby the same day. If you are near me, we can be there within hours.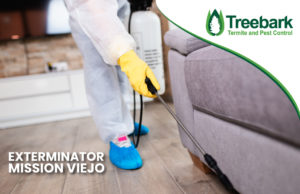 Call (949) 272-8965 now for a free inspection and estimate or fill out the form below!