Treebark Termite Control and Pest Control Mission Viejo
Treebark Termite and Pest Control tackles termites from the "everything or nothing" approach. We only perform services that control all termites on the property not just Drywood or Subterranean. Competitors of ours might offer Drywood Termite Control via Fumigation (tenting the structure) while not addressing the potential for a Subterranean Termite Attack. This causes frustration when a Subterranean infestation appears at a later date. These types of competitors seem inexpensive until you add their prices up and compare to our regular Treebark service. To not be covered for this or that type of termite after treatment is not a solution.
Treebark Termite and Pest Control Mission Viejo
27201 Puerta Real, Suite 300, Mission Viejo, California - 92691 United States
(949) 272-8965
Schedule Free Inspection
grace ssenyondo
08:38 03 Dec 22
Treebark Termite has been a client of mine for numerous years, and they are always pleasant and on time. Jeff and Robert are my technicians. If you have insect problems, I highly suggest them!!
Richard Buyinza
11:10 24 Nov 22
Robert, who assisted us, was fantastic and handled the situation quickly. I would recommend it to anybody that needs pest control!
Stewart Simon
04:47 21 Nov 22
We had an appointment at 2 p.m., and they phoned to see if their tech could come earlier, which was fantastic. Jonathan came and was quite kind and informed. He got directly to work on resolving our issue.
Victor Pearson
19:46 20 Nov 22
Excellent service! We are really pleased with what Treebark Termite has to offer as well as their quality of service. It's very simple to call them, and they're always quite helpful. Jacob has recently begun servicing our home and he is fantastic. He is usually on time and makes sure to check in with us to see how things are going and what precisely will be required.
Orlando Strickland
16:31 20 Nov 22
Treebark Termite performed an excellent job with our service today. Robert was our technician; he was on time, courteous, and patiently addressed all of our inquiries. From the first phone conversation through the completed job, I had a fantastic experience with these folks. Thank you very much, Gene and the whole Bulwark crew.
Arnold Ferguson
02:51 17 Nov 22
Excellent service! When we needed someone to inspect our roof for pests, they responded swiftly. They did not charge to come out and examine the situation, and they provided a fair quotation.
Sonami Haris
15:35 15 Nov 22
My home needs to be assessed for termites and rat proofing. Mike was knowledgeable, thorough, and patient. Because this was my first time doing this, I had a lot of questions, and Mike was kind enough to answer them all. Mike provided me with exceptional customer service, which is difficult to get by these days.
Hugh Bryan
10:28 12 Nov 22
This was my quarterly bug spraying of the inside and outside of my home. I've always had Saul, who is always on time, friendly, and accommodating. I wholeheartedly endorse Him and Treebark Termite and Pest Control.
Jerin Makaila
20:11 11 Nov 22
David is fantastic and really helpful! He gave me flea management advice without pressuring me to treat my house and yard.
Cameron Young
03:50 09 Nov 22
Excellent service Always willing to assist. I've never had a problem with their service. Dave immediately showed up and performed an excellent job.
Richard Reyes
13:47 08 Nov 22
For the past ten years, Jacob from Treebark Termite and Pest Control has been our hero. Every three months, he pays us a visit. He is always on time, accommodating with schedule, and always arrives with a grin. We appreciate him because there are no more scary crawlers to cry about for my kid and me!!
Dan Allison
15:37 07 Nov 22
So far, we've been pleased with Treebark Termite's service. They've treated for moles, and we're on a biweekly schedule for wasps and other insects. Our technician, Robert, is very responsive and thorough. I highly suggest it.
James Tate
07:58 07 Nov 22
I've been working with Treebark Termite and Pest Control for several years. They are always timely, responsive, informed, friendly, and thorough. They come highly recommended by me. Nicole is a great service guy who was really helpful in resolving our issue.
Sidney Pearson
04:20 07 Nov 22
We appreciate having you over. They have a friendly and attentive disposition and consistently goes above and beyond to meet our pest control demands.
Wilbur Griffin
03:05 04 Nov 22
Excellent client service! Jeff is always thorough and provides me updates and images. He constantly texts me to let me know he's on his way so I can organise my day accordingly. Professional and friendly! I would suggest it.
Next Reviews
What Types of Termites does Mission Viejo Have?
Subterranean Termites
Mission Viejo because of its wooded forest history suffers from Subterranean Termites. Termites forage underground for tree roots and other cellulose material to feed on. In my experience, any city with a history of forestation is susceptible to Subterranean Termite colonies being present. Mission Viejo is also unique in that it has small bodies of water which also attract Subterranean Termites.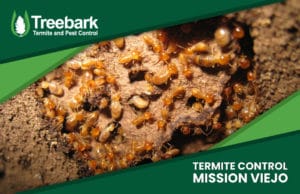 Subterranean Termite Treatments
Bait Stations – Bait stations are a passive method of Subterranean Termite control. These companies install bait stations around the perimeter of the property by using a post dig shovel. Digging into the yard/grass/concrete, they drop the station into the hole. The top of the bait station is a lid. Once installed the top is opened, and a piece of wood with a pheromone is dropped within. A technician checks the location periodically for termite activity. When Subterranean Termite activity is detected a new piece of timber containing an active ingredient to kill the termites is used. There are two main drawbacks to the system. Time and Risk. It takes time, sometimes years, for a colony to locate a random piece of wood around your home. You could be paying several times more for this treatment without actively killing the colony. The risk of canceling your policy and having the pheromone left scattered around your property acting as an attractant is just a dumb idea.
Liquid Termite Treatments – Homes with active and damaging Subterranean Termite infestations require immediate control in my opinion. This direct control is always done with liquid termite treatments as it places termiticide directly where the infesting termites currently are. There is no waiting for a little piece of wood to be found. This termiticide stops the damage and prevents re-infestation for the shelf life of the material used. The downside to this treatment is drilling the dime-size holes in your concrete. We do this to get the termiticide underground where the colony lives.
Drywood Termites
In Nature, Drywood Termites place a crucial role in the ecosystem of many forests and wooded areas. Evolving the termite was out of the necessity of removing dead trees and other cellulose plants which is dying or has become ill (yes trees get sick). Drywood termites attack trees, and because of their smaller colony size and quicker maturation, they will swarm faster, spreading quicker. In areas like Mission Viejo with a high population density and a high concentration of trees, Drywood termite infestations are common. The termites can migrate from home to tree and vice versa. Protecting the home from future re-infestations is critical in cities like Mission Viejo. Without prevention, control is nearly impossible.
Drywood Termite Treatments
Fumigation – Drywood Termites stay within the piece of wood they are infesting inside. They do not have any relation to the ground. Fumigation is only a Drywood termite control method as it eliminates any living breathing organism within a structure. Drywood termites cannot escape the poison gas and therefore die. Fumigation while effective has some annoyances like plant damage, roof damage, broken tiles and removing of food.
Localized Termite Treatments – Spot treatments have been around since the beginning of Termite Control. The inspection locates the termite infestation for a technician to come back around and treat with a liquid termiticide. When done correctly, spot treatments have the potential to save the homeowner money. The drawbacks to spot treatment include missed infestations and additional treatments that require more money.
Pest Control Services in Mission Viejo
If you are seeing pest control issues in Mission Viejo call Treebark Termite and Pest Control Mission Viejo Ca. We look forward to serving you and your family. Treebark offers an Organic Pest Control Service in Mission Viejo. We can be nearby the same day. If you are near me, we can be there within hours.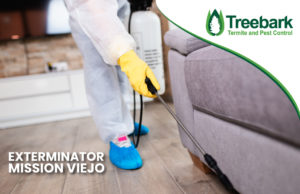 Call (949) 272-8965 now for a free inspection and estimate or fill out the form below!