Termite Control In Riverside
How Much Does Termite Control In Riverside Ca Cost? The short answer is that it depends. Size of the infestation, location of the infestation, and what you want to do about it. Is it one spot on a door jamb and you want me to locally treat it for a few hundred dollars? We can deal with that. Does the house have a bunch of termites, you should be fumigated but do you prefer naturally derived materials as we do? Well, it might be around the same price for fumigation but you will gain coverage for Subterranean Termites, General Pests and Drywood Termites. Fumigation is only Drywood Termites. You need better termite coverage than that.


Treebark Termite and Pest Control Riverside
8175 Limonite Ave, Suite A, Riverside, California - 92509 United States
(951) 292-4017
Schedule Free Inspection
Ernest Mattingly
05:51 20 Aug 19
Have been getting quarterly pest and termite control treatment at my home for about an year now and I am extremely happy with the results. I cannot see any bugs, ants or termites inside my home. Great service!
Alexandra Black
12:47 16 Aug 19
Treebark Termite Pest Control Riverside is excellent! Always friendly, on time and helpful. They listen to our concerns and problem areas and do a very thorough job.
Thank you for your expertise you showed in solving my problem with ants. It was a pleasure working with you're your company during my time of need. Thank you once again!
Denise Hudson
07:36 14 Aug 19
The technicians are very courteous and knowledgeable. It's awesome experience getting first-rate service and effort--every time.
Easton Kunze
07:00 12 Aug 19
The professional techs of Treebark Termite and Pest Control Riverside were prompt enough and provide services at a very reasonable price, I recently got the pest control done from them at my house and super happy with their work. 5 stars!
Valencia Hinkle
10:06 08 Aug 19
By far the most exceptional and professional service I have ever had. Appointments are kept, always arrive on time and respect you, your home and your privacy!
MASON Stella
05:28 08 Aug 19
I had a wonderful experience with the professionals of Treebark Termite and Pest Control Riverside. They are punctual and did the job in a very professional manner. Everything was done thoroughly in a very organized way. The spray for red ants was very effective. I would surely recommend this exceptional pest control company to all my friends and relatives.
ALDEN Lucy
07:28 07 Aug 19
We called Treebark Termite and Pest Control Riverside for providing pest control services at our house. The team of experts came on time and sprinkled the chemical all over the place without leaving a corner. Very happy with their work as well as the results.
Kimberly Wilkins
08:10 31 Jul 19
I was having a termite problem in my house for quite some time so, I called Treebark Termite and Pest Control Riverside. They did a fine job getting rid of those filthy termites. The workers were very polite and professional. Great services!!
Digna Escobedo Arenas
11:18 29 Jul 19
I always call Treebark Termite and Pest Control to get mosquito control treatment done at my home on a regular basis and these people have been doing a great job. The technicians arrive on time, get their work done promptly and also charge very reasonably. Keep up the good work!
Allison Carter
13:21 15 Jul 19
Thanks for your quick response!Not only the technicians came on time but also cleaned the whole pest services very speedily. I really appreciate your responsive behavior.
Charles Forsyth
08:30 19 Jun 19
I want to thank TreeBark Termite and Pest Control services for the wonderful duties they provided me a week ago. Their personnel are extremely aware with the nuances of infestation control and make sure to cater the clients as per best of their capabilities. I am extremely grateful to them!!!
Estella Bridges
09:12 01 Jun 19
We were very pleased with the exceptional service received from Treebark Termite and Pest Control Riverside. The team that came to our house for pest control was very skilled and responsive. They completed their task with great perfection. Thoroughly satisfied by their services!!!
Joanne Wilson
14:06 30 May 19
My family members were getting skin rashes, from the time we shifted to our new apartment, then I realized about the presence of small insects and beetles all over the place. My husband took immediate action and called Treebark Termite and Pest Control Riverside. They reached on a single call and sprinkled the chemicals all over the house. Thank you guys for your help!!
Rachel Chapman
09:58 30 May 19
I really enjoyed working with this company !! Thank you so much for providing such exceptional customer service and effective treatment. The bug count in our house has decreased a lot. 5 stars from my side without any doubt !!
Next Reviews
Free Termite Inspection in Riverside, CA
The amount of homeowners calling Treebark Termite and Pest Control Stating "Hello I need a Free Termite Inspection Riverside CA" is astounding. Over the last year years the population of Riverside has blown up and the density of the homes leads to termite and pest control problems. If you are suspecting Termite problems procrastinating is going to cost you money. Termites can do thousands of dollars in damage over the course of just a few short months. You do NOT want to play with termites.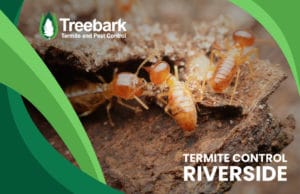 Why does Termite Control cost that much?
Insurances. I wish I was playing. The Termite and Pest Control industry gets a bad wrap from the workers compensation people, the general liability people, and the other blood sucking insurance scams. You would think this would be a straight forward thing but the costs associated with the pest control industry dictate the prices, not me. With that being said, if someone is way less expensive than me they either have cheaper suppliers (doubt it) or they are cutting corners somewhere. Don't get caught in some nonsense using uninsured or uncovered contractors. We cost what we cost because the work requires it to stay in business.
Can I have it Cheaper for Riverside?
no.
My Best Offer
If you allow me to inspect your home for free, I will bring you a brochure and a bunch of business cards. If you decide to use me for termite control, for your Riverside home, I will include pest control for free. Call today though. It will be interesting to see if this works
Best Termite Control Company Riverside Ca
read the reviews online Treebark Termite and Pest Control is the best termite control company in riverside ca and should be your choice for all of your pest control needs. We look forward to working with you and making your home. I didn't write this, It was on the page when I got here but I left it because it's not wrong.
Schedule Free Inspection
What about pest control? How much does Pest Control in Riverside Cost?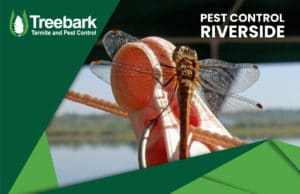 $90 every three months. We can't do one time treatments with the Organics we use. The materials are organic and therefore break down quicker, unfortunately. We need to return quarterly in order to be able to maintain the home and reapply the material barrier. We have to charge a little bit more for the fleas and the cockroaches. These pests require multiple treatments and an insect growth regulator to be effective.
Why is it that price for Pest Control in Riverside?
We created this wheel with prices on it. We spun the wheel a few times until the number made money. The first number we landed on didn't make money so we adjusted to $90. We have been able to provide consistent employment for our co-workers and satisfactory results for our clients at this number so we stick with it. It's kinda weird. We hear we are cheaper than most, sometimes, other times people call us expensive. I don't know how that all works but I know that we are rated highly. We seem to get good results for people and price hasn't been an issue for our customers so I just assume not everyone is our customer. That's okay. Your still a good person and we are still a good company. I can talk for long periods of time. The pest control price is fair and in the industry middle from my experience. You will not be unhappy. I will give your $90 back.
Can I have it cheaper?
no.
Treebark's Best Pest Control Offer For Riverside.
Schedule a free inspection for termites and we will waive the initial fee on cockroaches and fleas. Call today and we will schedule an inspector who will hand write an estimate and leave you a brochure. Thanks for stopping by. I think I am done writing for the night but I hope you decide to use us. If not that's okay. I hope you get your problem taken care of, thanks for stopping by.
Schedule Free Inspection
What about Rat Control in Riverside, Do you offer Exterminator Services?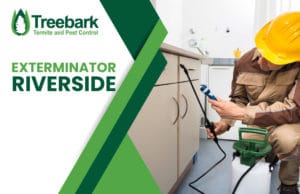 Yep. Call us today and we will send out a licensed inspector who can inspect the home for rats and mice. We would leave you an estimate, brochure, and our business cards. If you are seeing Rats or Mice call today.