Treebark Termite and Pest Control Irvine
If you suspect you are seeing termites or pests in Irvine you likely have questions. I have curated a few of the most recent customer's questions to serve you better. You would be surprised how many people see termites annually and do not realize the damage being caused. If you are starting to see termite damage border lining on needing repairs, call for a free termite inspection. We provide termite control in Irvine as well as pest control in Irvine. We offer free estimates and brochures for both termites and pests found in Irvine.
Treebark Termite and Pest Control Irvine
64 Mapleton, Irvine, California - 92620 United States
(949) 329-3305
Schedule Free Inspection
Types of Termites in Irvine
Drywood Termites
Drywood Termites are common in within Orange County. Irvine would be no exception. Irvine homes were built primarily in the 1960's. Homes built during this period mainly consisted of wood framing with decorative exterior wood like fascia shiplap and trim. These exterior wood pieces usually get their infestations from neighbors. These new infestations start damaging the wood immediately. Infestation signs show from 3 months to 6 months after.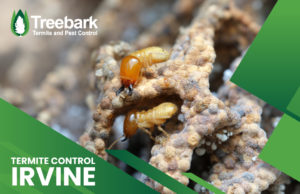 Since Drywood Termites damage the wood from the inside out, seeing damage in 6 months means considerable damage inside the wood trim piece has taken place. Since Irvine Termites spend most of their lives inside wood, are easily overlooked during everyday events by the homeowner. The earliest sign of Drywood termite infestation is little wooden fecal pellets. The termite has digested each fecal piece found. The Drywood termite robs the wooden material it eats of its water and glucose.
I have a funny way of describing termite control
My favorite way of describing the pellets to the homeowner is in Dollars and Cents. Currently, a 2×4 from Home Depot costs about $2.50 per foot. Each little dumpling is worth approximately .01 Cent so that pile of droppings comprising of 500 ish Pellets is worth about .50 Cents. Factor in multiple infestations around the home, it could be several Dollars in pellets. Compound those several dollars of pellets into months sometimes years going without termite remedy, and you have an expensive wood replacement bill. Termite Control Wood Replacement Services are not cheap!
Subterranean Termites
Subterranean termites are the silent destroyers of Irvine. The Forest/Woodland areas being the most susceptible because of the roots left behind after the clearing for construction. The termites live underground and feed on the tree roots underneath your home. If you're unlucky, they will explore the area surrounding your house. Cracks in your foundation are likely as the earth settles causing entry points for termites. During their exploration, if they happen to find your homes breaks, they will attack the framing undetected.
Undetected Subterranean Termite infestations cause thousands of dollars in damage. Unlike Drywood Termites, Subterranean Termites do not produce pellets. Instead, they use their fecal matter to act as glue forming dirt into shelter tubes. A Subterranean Termite infestation produces pounds of dirt and fecal matter glue inside of the wall. Cutting open the drywall and removing the mounds of dirt is a priority.
Couple of interesting ways Subterranean Termite colonies formed over the years:
Prospective Client stated that she couldn't hang her mirror on the wall. The stud behind the drywall was severely damaged the nail would not hold. We ended up removing the drywall and "sistering" new studs next to the damaged ones.
Prospective Client Stated the entire living room was alive. When I arrived, all four walls were actively swarming. They were crawling all over the floor and flying around.
The customer's wall was showing the damages of a six-foot mud tube that was building overnight. Winged Alate Termites exit through these swarming tubes but worker termites have to construct the tunnels in advance in preparation for the Alates flight.
Customer bet me $100 there wasn't "Dirt in his walls". He proceeded to kick a hole in the drywall exposing the largest above ground soil colony I have personally ever seen. He then went "Can I use my $100 towards the deposit" Ha. Still a favorite of mine. I should call him and see how he is doing. He has been a customer now for likely 3-5 years.
Why Treebark Termite and Pest Control?
Naturally Derived Compound Chlorantraniliprole Based on the Organic Insecticide Ryania Speciosa's mode of action.
Mimics Mother Nature's Way of Controlling Pests by attacking Ryanodine Receptors of Insects, Just like when the tree senses it's under attack it produces compounds of insecticide.
Controls the Termites within Hours, Not Days like Traditional Fumigation or Local Treatments
Stops Termites From Feeding – Wood Damage Stops within Hours. The Chloranthripole clone of the Ryania Tree Compounds Destroys The Mandible of the Termites Preventing Feeding.
Free Organic Pest Control Service included with Treebark Final System Install. That's right not only do we provide Naturally Derived Termite Control we specialize in Organic Pest Control Services
Termite Control in Irvine doesn't mean Fumigation
Check This Out, Termite Control Treatments Are Much Different Than Fumigating
My Technicians are Live Scanned (FingerPrinted), Drug Screened, Licensed, Bonded and Insured. Fumigation tarp guys are not required to submit to any of these things and there are reports of burglaries because of it. Yes, you might trust the field representative you're speaking with but do you trust the tarp guys who show up to actually do the work? Remember, their fumigation tarp guys are going to be inside your home, opening your cabinets and drawers.
Want Even More Information About Fumigation?
You Should Check Out This Piece on Fumigation I did Treebark Termite and Pest Control tackles termites from the "everything or nothing" approach. We only perform services that control all termites on the property not just Drywood or Subterranean. Competitors of ours might offer Drywood Termite Control via Fumigation (tenting the structure) while not addressing the potential for a Subterranean Termite Attack. This causes frustration when a Subterranean infestation appears at a later date. These types of competitors seem inexpensive until you add their prices up and compare to our regular Treebark service. Our warranty covers both types of termites found in Irvine. You do not have to worry about having an infestation you will have to pay additional money to treat.
What's the worst thing that can happen with Treebark's Final Service?
I have to come back for multiple treatments. It happens occasionally. Inspecting your home quarterly is part of your maintenance plan. The value in the service we provide is being pest-free long term. This is nature we are dealing with. They will at some point come back without prevention and protection. We can get your home pest free for a few years sure, but if you cancel, at some point nature does what it always does. The only way to safeguard from pests with a reoccurring pest control service. Only IPM methods and material barriers can prevent infestations BEFORE they occur. It's so much easier this way, I promise.
What about Exterminator Services in Irvine?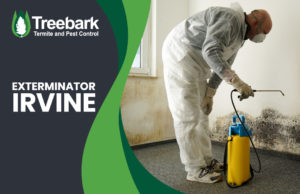 We are a full-service pest control company that can handle your rats or mice. We have a very unique way of ridding your home of rats and mice. Once again, we do not use poisons. We perform exterminations with traps. The way humans have been doing it successfully for centuries. It's easy to just throw a poison block and hope for the best. We don't use poisons for rat control because they can die inside your wall. It will stink your entire house up, I swear to @googlebot! Don't mess with Poisons and companies who use poisons. When the rats don't die within the walls, they die outside and get eaten by the family pet. A dose of professional grade rat bait can kill several animals.
Pest Control Plus Exterminator Costs?
If you have our pest control service we can bill you solely on the exclusion and abatement. If you have no current termite control services with us we will need you to establish either a pest control contract or a rodent control contract. This will allow us to perform the initial service work and then begin the maintenance program best suited for your home. The average cost of exclusion services from professional pest control companies is $800 with Trapping running from $360 – $500 (including two to four follow up visits). If you are under a contract with a professional exterminator for reoccurring service, most companies will allow you to pay the charge to exclude/abate the home. Some pest control companies like ours, allow you to merge your routine maintenance in with your existing service, charging no additional money.
My last pitch for your business
Please use our company. We value your business and are grateful for it. The entire company understands we are paid to perform a service. We know that our livelihoods rely on it working repeatedly for many customers over many years to be successful. We will make mistakes, we might make one on yours. Don't trust people who claim to be perfect. Trust people like me who tell you I might make a mistake but you have my word I will fix it.  I have failed in my quest for complete satisfaction a few times. In fact, I have come to expect it. We have thousands of accounts. The number of accounts means that even if we were 99.9% "Perfect" last year there's a few statistically we failed. Unfortunately. You can check out our Google Local Services page for verified reviews.
Please call today for a free termite or pest inspection.
We will inspect your home for rats and mice because the inspection covers many common pests.