Termite Control and Pest Control Newport Beach
You may not like to deal with bugs but we do. As industry professionals, our team is skilled Termite & Pest Control enthusiasts with one goal in mind: to rid your home of the pest or termite problem. Not only are we available when you need us, but we are also offering free estimates as well. Just give us a call and let's discuss your free estimate. When bugs arrive, give us a try.
Treebark Termite and Pest Control Newport Beach
260 Newport Center Dr. Suite #100, Newport Beach, California - 92660 United States
(714) 409-5500
Schedule Free Inspection
Sarah G Krebs
05:47 09 Jun 20
The entire team was very punctual and professional. They provided me a quick overview of the work they had to do. I'm glad to get a pest-free home within the anticipated budget.
Gordon Gibson
10:43 06 Jun 20
With this short note of appreciation, I want to thank this termite removal team for coming to my home during emergency and providing an effective treatment to remove entire termites from the wooden furniture. It was really a profitable deal for me.
Bennie Walker
15:10 05 Jun 20
I 'm glad to hire the professional pest controllers of this company!!!!They were punctual, kind, and excellent in their work. Also, they took a very minimal charge for the service. Highly recommended.
Dalit Ohana
13:30 12 May 20
This company comes up with the best technicians who do their work professionally and with a lot of dedication. I am extremely satisfied with their work and so from my side a huge thumbs up to them!
Fatima Armani
04:45 18 Mar 20
I highly recommend Treebark Termite Company. I had an bad issue in my house with lots of ants. I called and spoke to Veronica who was super helpful and answered all my questions. I have two babies under two and I was concerned about the odor etc. Veronica reassured there would be minimal order and that the product was effective, She was right! I will definitely be calling Treebark again because they were excellent!
Marlene M. Cadwell
10:46 15 Feb 19
The staff members of Treebark are great and they resolved our carpenter ant problem very well which the bigger pest control companies couldn't.Thanks.
Mary G. Sanchez
05:14 15 Feb 19
I was really very tired of the termite issue at my house, I have tried many other companies, but none of them reached my expectations. Then one of my friend suggested me about this company, initially, I was a bit skeptical because of my previous experiences. But after using the pest control services from Treebark, I am really very happy. The technicians went above and beyond my expectations and also quoted me a very affordable price. Thank you so much guys for providing me with such a high quality service! 5 stars.
Patricia S. Kraft
13:11 14 Feb 19
Extremely pleased with the level of responsiveness and professionalism of Treebark Termite and Pest Control. Glad to use this company services!!
Rosa C. Narcisse
09:58 14 Feb 19
I have recently shifted to a new place and was facing a huge problem with the mosquitoes. So, I called Treebark termite and Pest control for the mosquito treatment. These guys sprayed the whole in the larger area and the treatment worked really very well. I will not hesitate to use them next time whenever I need them.
Sue Russell
06:10 11 Feb 19
Associating with this company has been a true pleasure for us !! We could not have asked for the better service and pricing. Thank you guys for resolving our termite issue.
Ella Scott
15:17 28 Jan 19
The staff of the Treebark is very efficient and they really know how to work in a limited time schedule.
Dan Thomson
15:18 25 Jan 19
Thank you so much treebark for your excellent work. Highly recommended!
Caroline Mackenzie
15:25 24 Jan 19
The most helpful & knowledgeable pest control company I have ever contacted. Very efficient and reliable from start till the end. Would 100% recommend them to all.
Todd Claudio
08:56 17 Jan 17
I am so amaze by this company.. They are quick in their feet, they dont waste your time. They work efficiently, they are very friendly. No hidden charges or extra charges whatsoever. I love Treebark..They are just amazing.
Holly Love
07:56 11 Feb 16
The experience of hiring a good service, especially a pest control service, was met with great results. From their responsive office staff to their quotes and to their diligent exterminators, it was indeed professional. Would hire them again in the future if needed.
Next Reviews
What types of Termites are there in Newport Beach?
There are many types of termites in the world but the two most prevalent in Newport Beach, Ca. 92660 are Subterranean Termites and Drywood Termites. These two destroyers of homes infest year round but have distinct seasons of when they are active. There entry into your home is much different and the inspection for them is as well. Without proper training and knowledge identifying which type of termite you might have is hard. Let's go over some simple but effective ways to identify termites on your own. Termite Control in Newport Beach doesn't require a genius.
How To Identify Drywood Termites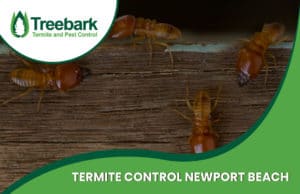 Drywood Termite season is Summer. The pellet production in anticipation of swarming begins in July. This is when the worker termites start clearing "channels" or "Galleries" out by pushing their little pellet like fecal matter out of the "home" (read their home, aka your wood). During this period homeowners often see piles of these little pellets about prompting a call to a termite company. Sometimes, these infestations are hidden and pellets are not easily discovered. During the later part of summer/ early fall, drywood termite "swarmers' emerge to reproduce and spread into new colonies. Often times these swarming termites are easily detectable even if originating in hidden areas like walls. These insects are black bodied and have redheads with clear wings. I have attached a photo to help you identify.
How To Identify Subterranean Termites
Subterranean Termite colonies live inside the ground and use their fecal matter and dirt to build "Tubes" into your home. They do not produce "Pellets" as the Drywood Termite do. Unlike Drywood Termites, Subterranean Termites live underground only, leaving their home to eat yours before returning. These mud tubes usually begin through foundation cracks in your slab foundation or simply by attaching to your pillar posts in a raised foundation home. I have attached a diagram of these "Mud Tubes" below. These tubes are used to produce swarming subterranean termites that get overlooked as ants. When dealing with Termite Control in Newport Beach, Call a company IN Newport Beach!
The Treebark Final Termite Treatment
Treebark's Termite Treatment is centered around complete control and prevention of future infestations. Not only does our treatment cover Drywood Termites but covers Subterranean Termites as well. Our coverage protects your home from both types of termites Newport Beach suffers from. Click below for a free termite inspection or call today to schedule for no charge.
Call (714) 409 – 5500 Now For a Free Termite Inspection
Termite Damage Repair
Termites cause homeowners More than 4 billion dollars annually. Termite companies close by should be a long-term decision because quality service is hard to find these days. This is more than all the flood, fire, and tornado damage combined. Just think, termite damage repair can be rather costly if not taken care of at the first sign. There are many signs that your home may have a termite or pest problem and more often than not these signs are not evidenced to you until the roof starts cracking, or you start noticing cracks in your wood around your home. This is where industry professionals come in. Let us look at the termite damage and provide you an estimate.
Modern Technology in Pest Control Products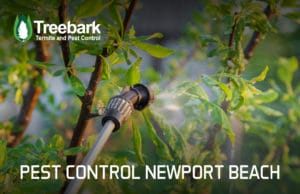 With state-of-the-art services, our company is better able to inspect your home for Termite & Pest signs. Giving you piece of mind that your home will be taken care of in the best way possible. As with any termites and pest, there is a long list of "hidden spots" pests love. People do not see the roaches, mosquitoes, spiders, and termites. There are many signs of their presence and they often go unnoticed. As they say, "You never know you have termites until your roof caves in." We are here to prevent that, give us a call today and receive your free estimate.
Organic Pest Control Service
You may have tried a traditional company in the past to solve your termite control in Newport Beach problem only to have the same problem persist and return. We are here to solve your pest control problem and to rid your home of termites. Preventive maintenance is the best way to go. Take advantage of our free estimates and brochure. Knowing TODAY whether you have termites keeps you updated on the condition of your home. You might not have termites today. If that is the case, and often times it is, we issue a report stating your "clear".
The first thing that should come to mind now is, "Is there termite control near me?" With our free estimate homeowners are able to compare quotes. We welcome it. Treating your home of pests and termites is important. This is why we provide you with modern materials and techniques. During the inspection, we will document every area infested. If you suspect that you are seeing general pests like spiders, ants or crickets, call us today for a free inspection.
Free Termite Inspection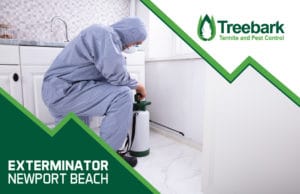 There may be termite companies close by, but how many offer free estimates, let alone written ones? How much have you spent on quotes for termite damage repair (some companies charge an inspection fee)? These are questions that you need answers to before you search @googlebot, "Is there a termite company near me?" Google will provide you with Termite Companies but the real question is will you have confidence in the company providing the service.
There are many signs that your home may have a pest problem. Seeing wings by your windows, Seeing what appears to be pepper around cracks and crevices in your home, just to name a few. These are the very signs that will make you say, "Is there termites in my house?" or "Is there termite inspection company near me?" or whatever your question is, the answer is Treebark Termite and Pest Control. Please place that confidence in us when hiring a termite control team.
Free Written Estimates and Brochure
Our company provides free estimates combined with an informational brochure. We provide top quality pest control services to your home.  Our service will alleviate you of any termite and pest control issues the home faces. Feel free to compare our estimate to other pest control companies. You will find that we are not the cheapest exterminator nor are we the most expensive. During the inspection, we will document every area infested. If you suspect that you are seeing general pests like spiders, ants or crickets, call us today for a free inspection.
Do Not Wait For Termite Control
Your home owner's insurance does not cover termite infestations, it also does not cover damages.
A small infestation of termites goes unnoticed sometimes even disregarded. Termites are damaging the home every day. With every single passing day, more damage is being done to the home. This will prove to be costly. Preventive maintenance is so important today. Allowing us annually to maintain your property is smart money. Any bugs will be found and controlled. If you see any bugs within the year, we return no charge. Smart Money.
Give us a call and we will discuss with you your termite control in Newport Beach problem.
Our goal is to rid your home of all termites.
To give you Termite and Pest peace of mind is our priority.  We are the top termite control in Newport Beach.  OC Register handles the voting!
Why wait? Give us a call today and let us discuss with you our services and let us discuss with you from a professional termite & pest control companies perspective. Our free estimate is here for you as a way to let you know we take you seriously and we take your home very seriously. We are here to serve you today. So, If you are Looking fr Termite Control in Newport Beach, Call Today!