What's Pest Control In Orange County California Cost?
We Charge $90 Per Quarter for our Organic Pest Control Service, Here's what's covered.
Ants
One of the easier insects to control. Professional grade Ant material is super effective and has long-lasting residuals. Most of the OTC Sprays are just pure Pyrethrin Poison. They fall under our general pest control program.
Spiders
Spiders are also a household nuisance best left to a professional pest control company. We have materials designed specifically for Arachnids. We knock down the webs which pisses off the spiders (all that wasted work smh) but also forces them to walk into our materials designed for them. They fall under our general pest control program.
Crickets
I never understood the cricket complaints until I heard them. All of them. Crickets are easy, but the OTC sprays kill on contact. Crickets hide in cracks and crevices making contact difficult. They fall under our general pest control program.
Silverfish
Silverfish are gross. I understand why people call us to get rid of them. They fall under our general pest control program.
Cockroaches
These are massive headaches. They require multiple visits in the first month of service to gain control of the property. If there's an environmental catalyst like a Chinese food restaurant or community dumpster nearby, the moment you quit our service these suckers will come right back. Roaches are the Herpes of pest control.
Fleas
Another multiple visit in the first-month pest. You have to disrupt the breeding Cycle before a control can ever really be obtained. Most homeowners fail because they do one half ass treatment with OTC. The OTC kills the genetically weak but leaves the resistant ones to breed. A few weeks later your flea problem has turned into a nightmare. You have now bred super mutant fleas.
Why does it cost this much?
There is so much more to pest control than just the spraying. The licensing, bonding and insurances are absurd. Our competitors use some gnarly 1980's materials. Some of these companies will straight dump pure poison on your property. All that has to be recorded and documented with the state. Not everyone, very few, in fact, uses Organic Pesticides. There's a couple of reason and its always about cost. Organics cost more, treat less and have a shelf life. A lot of pest control companies are straight profit machines. LOOKING AT YOU ORKIN AND TERMINIX. They see the higher costs and pass immediately. They don't care about little Timmy's allergies, they care about that cold cash. Little Timmy can Scrooge off for all they care. I, I am different. I care about Little Timmy's allergies, his asthma and all the other stuff that pests contribute to.
Can I have it cheaper
No.


Treebark Termite and Pest Control Orange County CA
9778 Katella Ave Ste 210, Anaheim, California - 92804 United States
(714) 406-4919
Schedule Free Inspection
Treebark Termite and Pest Control Orange County
When looking into Pest Control Companies in Orange County, it's always smart to go with a professional with honesty.  Companies could be using poisonous chemicals in their work. All Termite and Pest Control companies in Orange County can kill bugs. The important thing to remind yourself is that we are only trying to kill the bugs, nothing else. The benefits of Treebark Termite and Pest Control to do away with pests both inside and outside of the home or business are many. Any products used by Treebark Termite and Pest Control Orange County outside and around your home will be safe for those with cats and dogs as pets.
If you have a garden or a large yard where there are plenty of bushes and trees, for example, you may be attracting a whole lot of ants, spiders, beetles, and other pesky bugs into your home. Especially if any of this shrubbery is pressed up against your home. These are key areas that you would want to keep in constant check, in order to minimize the amounts of bugs that exist in your yard. It's true that some bugs are beneficial for your gardening needs, but all gardeners know there are certain ones you will want to keep out or minimize. Organic pest control is something Treebark can surely help you with.
Organic Pest Control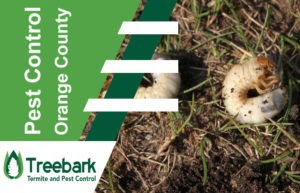 Treebark's organic pest control eliminates pests while reducing the risk of poison exposure to children, teens, adults, and pets who are living within the residence. The CDC statistics have numbers that show 2 million poisoning incidents happen each year. 50% involve children who are younger than six years old at the time of exposure and poisoning takes place. 90% of these unfortunate incidences happen within the very home in which the child lives. That means that harmful pesticides are either A) Chemicals are being willfully used within the home to kill pests, such as a potentially deadly rat or spider killer, or B) The chemicals are being tracked in somehow from an outside source or are accidentally ingested due to chemicals not being locked up correctly within the home.
Our Services For All Orange-County Residents
We work all over Orange County on Pest Control, termite control, rat control, and other pest problems. Treebark prefers to give you the service you need as opposed to the service that is the most profitable for us. We are willing to travel all over the area when needed, and you can read more about what we do when you come to our service pages. You can get every pest out of your house, raise the home's value, and prevent problems from cropping up in the future.
1. Orange County Termite Control
Orange County termite control is one of our specialties, and we are happy to help you keep termites out of your home. Treebark knows that this can be one of the most terrifying things that could happen, and we want to assess the situation to figure out what to do. We have multiple steps to our process, and we prefer to complete each step so that you do not have this issue in the future.
Termite control requires that you have prevention treatment done to your house that will kill the termites. This is a long-term preventative measure that we prefer to do because that helps keep the termites away in the future. We also want to be sure that we have treated around the home in the right spots. This alone can save you a lot of worries, and we also have a removal process if you have termites in the house.
We know how to spray for termites, and we make completely sure that we have checked where the termites and sprayed for them. Treebark wants you to have confidence that the termites will disappear, and we prefer to take our time. We spray, check, and come back for more spraying when needed.
An inspection plan helps keep your home safe, and we prefer to set you up with one of these plans just to be certain our system has worked. You want to have the peace of mind that comes with being termite-free, and we send a professional technician to check when the time comes.
Routine Termite Control Service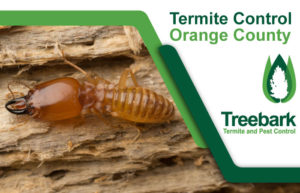 We can set up a yearly inspection to be sure you are doing alright, and we will spray the exterior a couple of times a year. We can come back to spray if you find some termites, and we can clear the house of termites so you can get a termite letter if you plan to sell the house.
2. Orange County CA Rat Control
Orange County CA rat control is essential if you want to be comfortable in your own house, and we know how to trap and poison rats so that they cannot breed in your home. You have a number of things that must be done, and we take care of it all.
We start by setting out traps and poison that will kill the rats without harming you or anyone in your family. Treebark Technicians will check these traps often, and we want you to call us any time that you think the traps need to be moved. We handle this so that you do not have to, and we check the outside of the house so that you can close up any gaps where the rats might get in.
Rat control is much easier when your house is clean, and we give you tips about keeping rats away in the future. We think that this is a much easier process when we collaborate with you, and we hope that you will call us for help.
3. Superior Service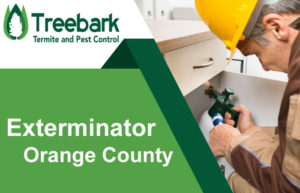 We offer superior service, and we have a full staff that answers the phone when you call. Treebark wants to help you when you are in distress. We come to your home anywhere in the Orange County area. We want things to go over as smoothly as possible, and we prefer to give you service quickly. If you are not happy with our service I will give your money back.
Call us in an emergency, and let us know what has been going on when you call. We take care of the rest, and you get your home back in better shape than you found it. Someone who has never had pest problems should call us first because we are not judgemental. We know these things happen, and help you prevent them from happening in the future.
4. Conclusion
Our pest control service covers all of Orange County, and we travel to you the moment you call. We can set up an appointment, come back for service, or check the work done. We offer termite control that prevents termites or kills them, and we offer rat control that gets them out of the house for good. Call us today when you need help, and we get right to work.
Please Call Today or Use the calendar to schedule an Appointment