Termite and Pest Control in San Marino
Treebark Termite and Pest Control have been giving the best pest control solutions to people in San Marino for many years. Their goal is to help homeowners and business owners nearby find the best termite solutions for their needs and tailor their methods based on exactly what you, the client, is looking for and/ or having issues with. They work hard to exceed expectations and use their extensive experience to stand out as the number one company in pest control near me and termite control near me.
Treebark Termite and Pest Control San Marino
1585 Westhaven St, San Marino, California - 91108 United States
(626) 489-4441
Schedule Free Inspection
Cassandra Gomez
08:45 20 Mar 21
Got quick response to my call concerning the urgent need for pest control.
Bain Rex B.
08:13 16 Mar 21
They did the work effectively and finished the pest control work on time. Great work.
Kate Darke
08:13 13 Mar 21
Guys came quickly, followed up spraying, and left no mess behind. Would recommend it to everyone.
The fumigation process can be filthy and might even damage the valuables. Thank you treebark for taking utmost care of it and not creating a fuzz.
Elmer Steele
07:56 26 Feb 21
The team managed things so professionally. They sprayed the entire garden area without damaging our new landscape even a bit.
Fiona Cornish
07:51 15 Feb 21
That senior technician was very thorough in his walkthrough - checked all the crawl spaces, around the house and then sprayed the entire area. I am pleased with the entire work.
Lilith Allen
08:14 09 Feb 21
Impressive job! Finally, my house looks and smells fresh. It was quite embarrassing to have guests while the roaches freely roamed around, but not anymore, Relieved.
Sebastian Fraser
07:54 09 Feb 21
Fabulous customer service. Company managed to send their team to two of our residences. I am pleased.
Valerie Simpson
10:07 28 Jan 21
Thank you so much for completing the pest control work within such a short time. We are happy with the services!!
Hortense Simon
07:23 27 Jan 21
Again a great job done by the professional team of Treebark. Thank you so much. We are super happy with the service.
Estefanía Uribe Verdugo
08:05 22 Jan 21
Treebark did excellent work at our farmhouse. I am happy not even a single mosquitoes are lest now. It's like I utilized every penny.
Jennifer North
08:39 21 Jan 21
I am not supposed to hear what others say about Treebark. Their team has provided 100% excellent results on various occasions, currently on termite control.
Hilario Solomon
03:25 21 Jan 21
The best company in town. Ask for their help because of the recently discovered rodents in my house. We were so shocked when we saw them running around. Treebark responded to our call immediately. They were quick and efficient. I would like to thank you for the hard work. Appreciate it.
Samantha Schenk
07:28 20 Jan 21
I am happy that you guys arrived on time, inspected the area, and exterminated all the pests from our house.
Spencer Parramore
08:29 19 Jan 21
Having pests in my home was eating me up. I would have left the home if Treebark couldn't make it worth living. Thanks to them.
Next Reviews
Treebark Termite and Pest Control in San Marino
As one of the best termite companies near me as each of the technicians has specialized knowledge, licenses, and several years of hands-on experience to give you the best treatment strategies that there currently are. They are often considered the best termite control companies nearby because their treatment plans and high quality of customer service goes nearly unmatched. If you are unsure whether to go with this company for pest control near me and termite control near me, consider looking at the customer reviews that satisfied customers have left after have treated their area, and you will be sure to like what you see.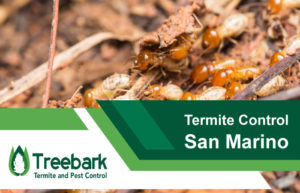 Before you receive any type of treatment plan, Treeback Termite and Control will come to your home and do a termite and pest inspection at completely no charge to you at all. After they have located the problem, they will come up with a tailored treatment plan based on your needs and your budget and present it to you. They will give you the best treatment plan that is minimally disruptive, highly effective, and will work in the long-term as well.
This company has been proven to be one of the best termite companies near me and they are so confident in their effectiveness that they offer a guarantee that comes along with a warranty, and they will work with you as the homeowner or business owner to make sure that termites and other pests never even get the chance to infect any area of the building you are concerned about.
Before you select a termite control service in San Marino
homeowners, renters, and landlords have the ability to control pests that come into their house and get comfortable by staying on top of preventative measures such as keeping their home clean and having good home maintenance practices. However, no matter how clean your home is, you can still get pest infestations and they can get extensive and impossible to control by yourself which means you will need a great company to come out and help you. You should pick a pest/termite control company like you would any other company that provides you with a service and look at their service record. Look at the quality and value of their work as your budget and their competency is hugely important to get the job done right. Our pest/termite control company has only licensed and experienced technicians so that we can ensure that pesticides are not misused, and you sustain no health or property damage during the process. Instead of jumping in with the first company you see, look around and do your homework on pest/termite control companies nearby and you will be sure to find that we stand out among the rest.
Don't be afraid to ask questions
You will only know that you are getting the best pest/termite control services possible if you ask them the important questions. Ask our technicians the important things such as how many years we have been in business and how many years of experience they have as a technician. Contact the Better Business Bureau and look for any complaints that may have been filed, or in our case, how reputable of a company we are.
Ask the company for a list of references from satisfied customers who have had them perform a service and feel they got the most out of it for the amount that they paid.
Always ask to be sure that the person who will be performing the services you need is certified and licensed as a pesticide applicator. Our company does have certified pesticide applicators so you know that anything that is used is applied properly and with a great deal of attention paid to your property so no damage to your health or property occurs while we are there.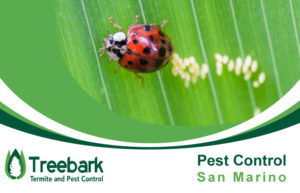 Also understand that not everyone is going to be as honest, reputable, and trustworthy as our company. As such, even if you are looking at our company, you should always ask the company's technicians or their office staff to provide you with their credentials for pest/termite control licenses, and copies of all the pesticides they use including the ingredients list so you are fully aware of everything that is being used in and around your home, how it should be applied, and any necessary precautions you should take based on your unique situation.
Our pest/termite control company can make a contract with homeowners, but not for routine treatment unless there is a chronic problem with pest infestation. A company like ours that treats your home for pest and termite infestations should not push to give you routine treatments as it is neither good practice not safe. The contract that homeowners can expect from companies like ours are periodic inspections to check for pests that may have come back or that were not completely gotten rid of through means of non-chemical methods, however there should be no pesticides that are used in these routine check-ups unless there are actual pests that are found on the property and they need to be taken care of quickly.
How long do the treatments last
Our pest/ termite control methods are typically found to work anywhere from one to five years so that you no longer have to spend time worrying about termites and other pesky pests invading your home and making it theirs. Our company will work with you to help if we come back to check your home and find that there is structural damage to your home that termites caused after we attempted our first round of treatment. We believe this gives our clients more reason to trust us and makes us stand out as one of the most reliable pest/termite control companies in the area.
How to help your technician give you the best service possible
Our technicians are at your home to give you a certain service to get rid of your pest problem. This can be a huge undertaking and they may need your help to properly apply pesticides or complete other methods of getting rid of our pests. To ensure that you get the best service possible, please help our technicians out by doing what they need you to do before they come back to start the process. If they ask you to take any personal items off of the floor, get food or dishes out of kitchen cabinets, and take any pets out of your home, do your best to have all of these things done before they arrive at your home.
The area is not safe for children or pets to be in until the spray that they use has dried and can no longer get on hands or in mouths and cause harm to the body. If they ask you not to let your children or pets inside for a certain amount of time, it is wise to listen to them for everyone's health sake.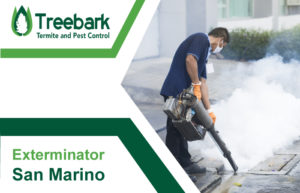 The licensed technician may say that you need to get a non-chemical treatment on top of the pesticide that they are using if this is the case it will require extra instructions and it is vitally important to follow them.
When you and the technicians from our pest/termite control company work together and listen to one another, it not only ensures everyone's safety and health but also means that you have a better chance of removing all of the pests and never having any issues again, and reducing the amount of pesticides that have to be used in your home. It is also important to listen to our technicians who know the toxicity levels of the pesticides our company uses and can talk to you to find the best pesticide option that fits you and your homes needs.
Why Choose Treebark Termite and Pest Control in San Marino?
There are several great pest and termite control companies in San Marino, and you can be sure that ours stands high among the rest as one of the best. We strive to give you the least health hazardous treatment plans that are also as minimally invasive into your home as possible. We guarantee to take care of your pest problem and will do that as quickly and efficiently as possible. If you have a pest or termite issue in your home, give us a call or go visit our website for more information on us, and to get a free estimate for your budget-friendly pest and termite control solution.
Schedule Free Inspection