Termite and Pest Control Dana Point
Termite Control Dana point is not as easy as it would seem simply because the terrain is often hilly and Rocky at the same time. If your home resides on a cliff overlooking the ocean in Dana Point, you might be suffering from a variety of termites. Dana Points termites include subterranean and dry wood. These types of termites are California's common types of termite. Subterranean like to attack the home from the ground creating mud tubes to eat the wood then using the same mud tubes to return the colony below the ground. Drywood on the other hand swarm from house to house have black bodies and redheads. Pest Control Dana Point is about killing Spiders, Ants, and Cockroaches.
Treebark Termite and Pest Control Dana Point
24085 Atun, Dana Point, California - 92629 United States.
949-220-2673
Schedule Free Inspection
Jonathan Davies
11:52 22 Jul 19
We tried many home remedies to get rid of the wasps I had in my garden, but nothing worked and we called these people at last. Thank you Treebark Termite and Pest Control for taking the time and making my garden free of those wasps.
Cheryl Lecompte
07:39 20 Jul 19
There was bug manifestation in my kitchen pipeline, so I called Treebark Termite and Pest Control Dana Point. The customer support people responded quickly and the workers arrived in the given time frame. They were very well equipped and professional and cleaned my house thoroughly and made it bug-free. Amazing services!! Thanks, Guys!!
Elena D. Jones
06:00 20 Jul 19
We had a big problem with bed bugs in my home. I just searched a list of best bed bug solvers in Internet and Treebark had a good review on the internet and so I immediately booked their service. They charged reasonable amount and solved my issues completely. Thanks.
Jonathan Kelly
06:02 18 Jul 19
Thank you, experts, for coming up on time and giving punctilious pest control services at my house!! I am very impressed with the work and would call you guys again whenever needed. Treebark Termite and Pest Control THE BEST!!
Kimberly North
11:00 17 Jul 19
When we notice carpenter ants in the backyard of our house. We immediately called Treebark Termite and Pest Control to excrete them out. The techs came to our house were quite fast and active. Without any harmful chemicals, they helped us to rid out all the carpenter ants from our house. Highly Recommend!!
Victor Young
10:11 15 Jul 19
I and my wife are happy with the quality of pest control service we received from Tree bark. Their technicians were quite prompt and did a great job removing bugs from my house. Highly recommended!
Fiona Clarkson
07:04 13 Jul 19
I am extremely pleased with the best pest control service of Treebark. Their technicians helped us to protect our furniture from carpenter ants. Great job!
Benjamin Alsop
12:26 04 Jul 19
Recently utilized pest control services of this company. The experts were very professional, flexible with scheduling, and also provided us a reliable service. I could not recommend a better company than Treebark Termite and Pest control.
Kaley Klein
11:22 26 Jun 19
Pests are a pain to deal with, but thankfully Treebark Termite and Pest Control were there to help. The team came into my apartment, was very well organized, punctual, smart, and skilful to handle the situation very blazingly. Thank you so much, guys!!!
Charley Trantow
07:22 26 Jun 19
Had a great experience with this exceptional company!A group of pest controllers visited my house, figured out the problem, and solved the pest issue in my house within a very short period of time. Highly impressed with their work. Would definitely use your services again in the near future if needed. Thumbs up!
Nathallia Clefaury
12:12 25 Jun 19
Earlier I had carpenter ants in my house. But after taking a pest control services from Treebark Termite and Pest Control, now I can't find any such ants. Thanks to their awesome service!
Lulu Proctor
11:16 25 Jun 19
We called Treebark Termite and Pest Control Dana Point for termite control services. The professionals were very helpful and also the price which these people charged was quite affordable.Thank you!
Felicity Hodges
09:42 20 Jun 19
Surpassing services and reasonable pricing!! This company provides the best termite control services in the town.
Carol MacLeod
09:55 18 Jun 19
Highly recommend this company! Hired them past week for our pest issue and I am very glad for what they did! The professionals were super friendly, easy to talk with, highly knowledgeable, explained everything that I might need to know in detail, and did a very thorough job. Prices that they charge are even the best in town. Never thought I would enjoy the process of having the pests exterminated from my home. Thank you!
Blake James
09:41 17 Jun 19
I have used Treebark Termite and Pest Control services on several occasions. All the service were very prompt and effective. I have no hesitation in recommending them for any exterminating service as they are consummate professionals.
Next Reviews
Termite Control Dana Point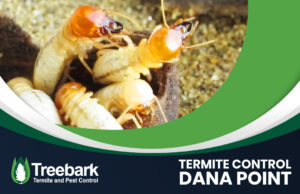 Every year the subterranean termite swarm as well as the Drywood's. Without inspections, infestations can go unnoticed causing thousands of dollars and would damage that need repair. And annual control program catches these investigations before the damage begins I can save your home from thousands of dollars of wood replacement costs. If you can't remember the last time your home was inspected for termites, use the form below or call today to schedule a free no obligation inspection to see whether or not your home has termites. Waiting for such an important homeowner task could be the difference between $100 and several thousand.
What if I know I have termites?
If you are already seeing the signs of termites prolonging the treatment is just increasing the cost of eradication. These insects damage your home every single day. They do not sleep. The longer you wait, the larger the wood replacement bill becomes acting now literally save you money it's the smartest decision you can make if you already see termites.
Affordable, Effective Termite and Pest Control in Dana Point, CA
Are you frantically searching "pest control service companies near me"? Maybe you are wondering "When do houses have to be fumigated?" Bracing yourself for termite treatment cost in Dana Point? Believe it or not, but you may be able to eradicate termites from your home without fumigating, and without breaking the bank.
A termite infestation can be cleared up without whole house tenting or fumigation. Treebark Termite and Pest Control, one of the premier termite damage repair companies in Dana Point CA, provides a safe and effective way to get rid of termites or other pests. It's called TreeBark, and it's the natural way to ensure that your house or commercial building is insect-free. Termite Control Dana Point Companies are not as good as Treebark.
Call Us Today For Faster Service
TreeBark Product is a chloranthripole formula based on compounds derived from the bark of Ryania Speciosa, a plant native to South America. These compounds are toxic to termites, spiders, ants, cockroaches, bedbugs, mosquitos and many other insects, and are group 28 classified for humans and their pets. Not only that, but they are many times more effective than conventional synthetic poisons. Your home can, therefore, be treated with TreeBark Final System and Product without fumigation or tenting. You won't have to stay in a hotel, take steps to safeguard your food or medication, or otherwise be inconvenienced.
Exterminators used to believe that the best method for pest elimination was to bombard an entire building with noxious chemicals, wiping out the insect population. In addition to being unsafe for people and pets, however, it turns out that this method doesn't always work when it comes to eliminating generations of termites or other bugs. Pests gain pesticide tolerance and require more and more chemical material to kill.
The TreeBark product formula is ultra low dose. Humans and domestic animals, as well as plants, show no effects. It's odorless, too. Treebark completely eliminates the pest population within three months of application. It continues to protect your home from new infestations. This can seriously reduce the termite treatment cost in Dana Point, or any other location in California.
How does it work?
Termites cannot detect the enzymatic compound, which means that they can't avoid it. They walk through it, ingest it, and transmit it on their bodies to other termites. After contact, affected termites begin to experience paralysis of the mouth. Muscular paralysis takes effect within a few hours, resulting in death. In the meantime, contact with other termites works to spread the compound throughout the colony.
TreeBark final system and product is so effective, in fact, that it can actually prevent termite re-infestation for up to a decade after treatment. Conventional poisons certainly can't make that claim. In addition, the trained technicians at Treebark Termite and Pest Control Dana Point will return to your home within 24 hours if, for some reason, you have discovered signs that the treatment was not 100% effective the first time around. We Guarantee our work for a full 1 year.
How much does termite treatment cost in Dana Point?
The TreeBark final system and product is surprisingly affordable. We can cover your entire property for less than $400 per year. Talk to termite damage repair companies in Dana Point CA. They'll tell you that the average cost to repair termite damage is $3,300. This doesn't mention the hassle and inconvenience of having contractors in your home. Let alone the creepy-crawly feeling your family will have knowing there are termites in the walls.
Is Fumigation The Solution?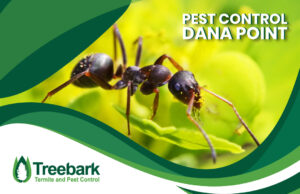 Never, if you choose the right pest elimination procedure from the beginning. TreeBark is that procedure. It's got protection for everything — except the pests that you're trying to eliminate.
So, relax; you can stop searching "Pest Control Service Companies Near Me." Simply call Treebark Termite and Pest Control at 1.714.406.4919 for a complimentary, no-obligation consultation. Our techs will visit your home (or office building!) at your convenience, inspect the property for signs of some two dozen different pests, and provide you with an estimate. Of course, they will also be happy to answer any questions you may have about the proprietary TreeBark Final System and product, how it works, its efficacy, the treatment process itself, and our follow-up policy. You'll find that our technicians are not only knowledgeable but also friendly and professional.
How much does termite treatment cost in Dana Point?
Well, your home is undoubtedly your biggest financial investment. You wouldn't let a damaged roof or flooded basement go unfixed. Don't ignore the warning signs of a termite infestation. You are risking incurring extensive — and expensive — repairs. The professionals at Treebark provide you with an affordable treatment option. Our Pest Control Dana Point will rid your property of whatever pests may be plaguing you.