Termite and Pest Control Dana Point
Termite Control Dana point is not as easy as it would seem simply because the terrain is often hilly and Rocky at the same time. If your home resides on a cliff overlooking the ocean in Dana Point, you might be suffering from a variety of termites. Dana Points termites include subterranean and dry wood. These types of termites are California's common types of termite. Subterranean like to attack the home from the ground creating mud tubes to eat the wood then using the same mud tubes to return the colony below the ground. Drywood on the other hand swarm from house to house have black bodies and redheads. Pest Control Dana Point is about killing Spiders, Ants, and Cockroaches.
Treebark Termite and Pest Control Dana Point
24085 Atun, Dana Point, California - 92629 United States.
949-220-2673
Schedule Free Inspection
Robert Iverson
07:48 19 Mar 21
Anyone facing termites and pests issues can call Treebark Termite and Pest Control Dana Point without thinking twice.
Ronald Castile
07:26 09 Mar 21
The Roaches were dropping all over the kitchen platform, they contaminated most of our food. The treebark team did an excellent job at killing them all. No roaches anymore.
Andrew Ogden
07:36 05 Mar 21
Definitely a trustworthy company. I recommend treebark.
Kylie McLean
06:51 03 Mar 21
The team was professional, on time, and used organic sprays only. Recommended.
Joseph Morin
08:14 01 Mar 21
Thanks for the prompt pest control work at our house. Your technicians were just superb.
Joshua Ellison
11:56 26 Feb 21
From start to finish you took great care and made my house a pest-free one. WOW.
Nathan Brewer
07:23 24 Feb 21
Whether it's rodents or ants, they are always successful in kicking them out of the area they reside in. Good work!!!
Nicholas Bryant
10:52 22 Feb 21
Thank you TreeBark for the same-day pest control service. Even after having such a busy schedule, you were here the moment I called. I am highly satisfied with your services. Glad to see that you kicked all the lizards and rodents out of my house. Also, I appreciate such a quick service.
John Jackson
07:56 22 Feb 21
First-time customers. My husband and I are very happy with their service. The process was explained throughout and with great detailing. Definitely a highly recommended service.
John Taylor
07:01 19 Feb 21
Like always, the team was again on time, professional, and keen in their work. Helped me get rid of such a serious mice problem. Thanks.
Madeleine Rees
07:22 18 Feb 21
The team came quickly, didn't waste even a minute, and completed the pest control work by sharp 4 pm. It's so relieving
Avenall Simard
07:12 17 Feb 21
I was so annoyed with them when they bit my daughter. Its quite harmful to ignore them. So, I hired TreeBark for pest control. They did a great job and kicked out all of them. Thank you!!!
Alex Coleman
07:06 15 Feb 21
Always the BEST. The Treebark team was thorough, understanding, and answered all my questions. Great job.
Maria Simpson
06:14 11 Feb 21
Satisfied with your customers. Also thanks for making my house into an insect-free one!!!
Chloe Ogden
06:42 09 Feb 21
If you are looking for the best pest control service, then Treebark is the solution. Great teamwork, and top-notch services.
Next Reviews
Termite Control Dana Point
Every year the subterranean termite swarm as well as the Drywood's. Without inspections, infestations can go unnoticed causing thousands of dollars and would damage that need repair. And annual control program catches these investigations before the damage begins I can save your home from thousands of dollars of wood replacement costs. If you can't remember the last time your home was inspected for termites, use the form below or call today to schedule a free no obligation inspection to see whether or not your home has termites. Waiting for such an important homeowner task could be the difference between $100 and several thousand.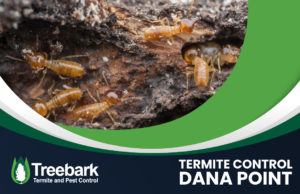 What if I know I have termites?
If you are already seeing the signs of termites prolonging the treatment is just increasing the cost of eradication. These insects damage your home every single day. They do not sleep. The longer you wait, the larger the wood replacement bill becomes acting now literally save you money it's the smartest decision you can make if you already see termites.
Affordable, Effective Termite and Pest Control in Dana Point, CA
Are you frantically searching "pest control service companies near me"? Maybe you are wondering "When do houses have to be fumigated?" Bracing yourself for termite treatment cost in Dana Point? Believe it or not, but you may be able to eradicate termites from your home without fumigating, and without breaking the bank.
A termite infestation can be cleared up without whole house tenting or fumigation. Treebark Termite and Pest Control, one of the premier termite damage repair companies in Dana Point CA, provides a safe and effective way to get rid of termites or other pests. It's called TreeBark, and it's the natural way to ensure that your house or commercial building is insect-free. Termite Control Dana Point Companies are not as good as Treebark.
Call Us Today For Faster Service
TreeBark Product is a chloranthripole formula based on compounds derived from the bark of Ryania Speciosa, a plant native to South America. These compounds are toxic to termites, spiders, ants, cockroaches, bedbugs, mosquitos and many other insects, and are group 28 classified for humans and their pets. Not only that, but they are many times more effective than conventional synthetic poisons. Your home can, therefore, be treated with TreeBark Final System and Product without fumigation or tenting. You won't have to stay in a hotel, take steps to safeguard your food or medication, or otherwise be inconvenienced.
Exterminators used to believe that the best method for pest elimination was to bombard an entire building with noxious chemicals, wiping out the insect population. In addition to being unsafe for people and pets, however, it turns out that this method doesn't always work when it comes to eliminating generations of termites or other bugs. Pests gain pesticide tolerance and require more and more chemical material to kill.
The TreeBark product formula is ultra low dose. Humans and domestic animals, as well as plants, show no effects. It's odorless, too. Treebark completely eliminates the pest population within three months of application. It continues to protect your home from new infestations. This can seriously reduce the termite treatment cost in Dana Point, or any other location in California.
How does it work?
Termites cannot detect the enzymatic compound, which means that they can't avoid it. They walk through it, ingest it, and transmit it on their bodies to other termites. After contact, affected termites begin to experience paralysis of the mouth. Muscular paralysis takes effect within a few hours, resulting in death. In the meantime, contact with other termites works to spread the compound throughout the colony.
TreeBark final system and product is so effective, in fact, that it can actually prevent termite re-infestation for up to a decade after treatment. Conventional poisons certainly can't make that claim. In addition, the trained technicians at Treebark Termite and Pest Control Dana Point will return to your home within 24 hours if, for some reason, you have discovered signs that the treatment was not 100% effective the first time around. We Guarantee our work for a full 1 year.
How much does termite treatment cost in Dana Point?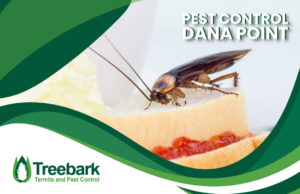 The TreeBark final system and product is surprisingly affordable. We can cover your entire property for less than $400 per year. Talk to termite damage repair companies in Dana Point CA. They'll tell you that the average cost to repair termite damage is $3,300. This doesn't mention the hassle and inconvenience of having contractors in your home. Let alone the creepy-crawly feeling your family will have knowing there are termites in the walls.
Is Fumigation The Solution?
Never, if you choose the right pest elimination procedure from the beginning. TreeBark is that procedure. It's got protection for everything — except the pests that you're trying to eliminate.
So, relax; you can stop searching "Pest Control Service Companies Near Me." Simply call Treebark Termite and Pest Control at 1.714.406.4919 for a complimentary, no-obligation consultation. Our techs will visit your home (or office building!) at your convenience, inspect the property for signs of some two dozen different pests, and provide you with an estimate. Of course, they will also be happy to answer any questions you may have about the proprietary TreeBark Final System and product, how it works, its efficacy, the treatment process itself, and our follow-up policy. You'll find that our technicians are not only knowledgeable but also friendly and professional.
How much does termite treatment cost in Dana Point?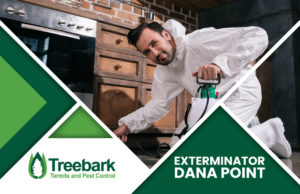 Well, your home is undoubtedly your biggest financial investment. You wouldn't let a damaged roof or flooded basement go unfixed. Don't ignore the warning signs of a termite infestation. You are risking incurring extensive — and expensive — repairs. The professionals at Treebark provide you with an affordable treatment option. Our Pest Control Dana Point will rid your property of whatever pests may be plaguing you.