Termite and Pest Control Fullerton
Treebark Termite and Pest Control Fullerton tackle termites and pests from the "everything or nothing" approach. We only perform services that control all termites on the property not just Drywood or Subterranean. Competitors of ours might offer Drywood Termite Control via Fumigation (tenting the structure) while not addressing the potential for a Subterranean Termite Attack. This causes frustration when a Subterranean infestation appears at a later date. These types of competitors seem inexpensive until you add their prices up and compare to our regular Treebark service. You need coverage for every type of termite. Reinfestation after treatment is not a solution. Don't move out of your home for Termite Control Fullerton.
Treebark Termite and Pest Control Fullerton
1855 Conejo Lane, Fullerton, California - 92833 United States
714-274-2648
Schedule Free Inspection
Angela J. Waters
17:46 24 Dec 18
Great company to rely on. Friendly and high end professional techs.
Beverly Renteria
11:18 22 Dec 18
I was very frustrated by the termite issues in my backyard. Been used several companies but none of them was able to resolve the issues completely. My neighbour asked me to once use this company. Trust me this was my best decision ever. The professionals were on time and was very courteous. Their techniques were very friendly and yes now my problem is totally eliminated and m happy.
Ann Williams
12:33 19 Dec 18
I have used their services for the past 5 years. Their professionalism, thoroughness, knowledge, and fast response are just remarkable. Everytime they come to my house for doing the pest control they try their level best to complete the work with ease and in a professional manner. So, yes with 100% surety I can say that they deserve 5 stars and a big thumbs up!
Paul Edmunds
12:26 14 Dec 18
I am extremely satisfied with the termite and pest control services offered by this company. Thank you for coming in time and helping us to deal with the infestation. I must say the technicians were so good and they did their work professionally. From my side a big thumbs up to this company.
Jason Rees
16:19 13 Dec 18
Outstanding service! Well, I was just frustrated with the termites on my wooden floor. But the technicians that they provided me with were all professionals and they did a great job. They handled the situation so well and left my house clean and termite free. So, yes I can say that they come with the best pest control service in the market today!
5 stars! Last weekend the experts of Treebark Termite and pest control came to our house for performing the pest control services. And trust me the experts did such an amazing job. They were 4 people who came for doing the pest control work at our house and without wasting a single minute they completed the whole work very well and provided me one of the best services. A big thumbs up to them.
Phil Powell
11:20 07 Dec 18
We have recently used the termite control services of this company and we are very amazed by their work.These people have provided prompt and courteous response to our calls for inspection and also arrived on time. The prices which they quoted are also quite affordable.I loved their services.
Colin McGrath
18:05 06 Dec 18
We have been utilizing the fine services of Treebark Termite and Pest Control Fullerton since a very long time. Operating as a veterinary hospital, we are under constant pressure to keep our facility pest free. Ledford's has always done a wonderful job helping us accomplish this. The office staff are always friendly and helpful and the technicians are always prompt, courteous, and well educated about their work. We highly recommend these guys to all our clients for their at home pest control needs.
Christopher Tucker
11:46 04 Dec 18
The customer support executives are very professional when these guys inspected my house, they were very thorough and knowledgeable. I am happy using these services!! Thank You!
simon fernad
10:52 29 Nov 18
I would recommend this place to any one, very helpful and worth every penny. Loved the service and will come here again. Thank you to the technicians who were a great pest control experts , who were very helpful and knowledgeable, would highly recommend!!
Maria Fetima
13:32 28 Nov 18
The techs of this company does all pest control at all our properties and we're glad to have these guys. A few days ago I called because one of our residents required service. The techs were able to squeeze us into his busy schedule that same day, came out assured the resident that his pest problem will be resolved, treated for ants and since then we have not had any more ants!
Carla gata
11:04 28 Nov 18
We've been using Treebark Termite and Pest Control Fullerton since a very long time for my condo building, to spray for bugs monthly. We've seen a virtual stop in all critters, but what made our experience so good with Treebark is the representative who came out every month was very friendly and efficient. The technicians always calls the day before these guys comes to let us know that they will be here and at the particular time. Great Services!!
Laila Gatinha
15:48 26 Nov 18
Great Work!!I have recently availed the pest control services in my home from this company and I am very happy with their dedicated service. The professionals came on time and carried out the whole work to the best of our satisfaction. After taking this pest control service I hardly see any cockroaches in my home. You guys truly deserve 5 stars.
Poliane Gomes
17:24 22 Nov 18
Information was explained, inspection was thorough. all questions were answered really very patiently. Great Customer Service!
Diego Gonçalves
11:00 22 Nov 18
Being a multi-family commercial building. I really appreciated how the techs of Treebark were able to accommodate us in a very efficient way. I am really very impressed with their services!! ThankYou!!
Next Reviews
What Types of Termites are There?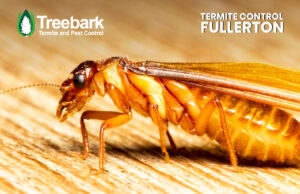 Subterranean Termites
Of the many types of Termites, Subterranean are the most destructive. Infestations start without the knowledge of the homeowner. Subterranean Termite colonies remain underground sending worker termites up through mud tunnels to eat the wood. The termites return the wood to the colony below for digestion by other termites. These infestations do silent damage over the years passing inspection after inspection, due to the tunnels being hidden by the drywall. Their first signs are usually swarming on the interior or exterior. Once a swarm has taken place it is safe to assume the colony has been damaging the home for a few years. Swarming is a sign of a mature colony looking to expand and reproduce. Termite Control in Fullerton must have Subterranean And Drywood Termite Coverage.
Drywood Termites
Unlike Subterranean Termites, Drywood Termites are never in contact with the ground. The Termites spend their entire lives within the piece of wood they are infesting moving from connected board to connected board. Signs of Drywood Termites are Damage, Pellets, and Swarming. Damage occurs over many years like Swarming, meanwhile, Pellets are seen in as little as two years. Once pellet production has begun, damage and swarming are follow shortly. It's important to have areas producing pellets inspected to determine the amount of infestation and the exact location of the outbreak. Professional pest control companies will assess the situation and prescribe the proper method of control to eradicate the infestation before costly damage occurs.
How Do I Get Rid of Termites?
Termite Colony removal comprises of several treatment options. There are types of termite treatments unique to the Termite type while systems like Treebark's control both without requiring you to leave your home. A full home warranty backs these kinds of treatments for all the types of termites allowing for inspections and retreatments on a regular basis. A termite inspection is required to estimate the home for control. Be wary of termite companies eagerly handing out prices without seeing the issues your home faces first.
Learn About Our Termite Services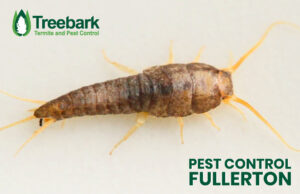 Are you trying to find termite exterminators near me, in the Fullerton area? If so, then look no further than our termite control services. We are here to provide you with the services you need.
About Us
We are professional exterminators that serve Fullerton as well as the surrounding area. People from all around the area contact us when they run into termite issues or if they want an inspection. We have been in the business for a long time and our exterminators are thoroughly trained and qualified to handle any termite problem.
Here at our company, we have extensive experience in termite services. We are known for being reliable, dependable and fast. This is exactly why we have been able to remain in business after all this time. We have been providing termite control in Fullerton for years.
Unlike other termite companies, we strive to be the best we can be. We only use quality treatment methods to get rid of termites. This means our customers don't have to worry about us putting them or their families' health at risk.
Schedule Free Inspection
Termite Control Services We Offer
We provide termite control services to both commercial and residential customers. Our services include:
. Inspection- We can inspect your property for termites. Even if you don't see any visible signs of termites, it's still a good idea to have a regular termite inspection.
. Extermination- If termites are present on the property, we can exterminate them. We use TreeBark treatment method to get rid of termites.
. Ongoing Treatment- Businesses in Fullerton can benefit from our ongoing treatment because it can prevent termites from colonizing in the property. The same goes for residential customers. If you run a business or own a home, then let us provide you with treatment that will take preventive measures against termites.
. Termite Damage Repair- We can provide you with advice on repairing damage that termites have done. If it's not extensive, then we take care of the repairs ourselves. Either way, we'll let you know what we can and cannot do.
Termite Control Fullerton
By using our services, we can help you with termite damage repair. Termites can cause a tremendous amount of damage and our exterminators can get rid of termites. This means you can minimize the number of repairs needed and prevent further damage.
Here at Treebark Termite And Pest Control, we want to provide our customers in Fullerton with peace of mind. That's exactly what they get when they hire us. We will work fast to get rid of termites and we'll provide you with going treatment if it's necessary.
We get the job done and our exterminators are highly skilled. The bottom line is we are capable of handling any job involving termites.
Schedule Free Inspection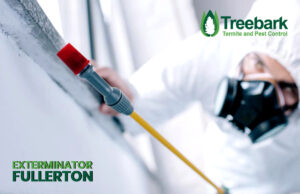 FAQ
Here is a list of the top frequently asked questions we receive:
1. Do We Use Harmful Chemicals: No, whatever treatment method we choose to use is organic or natural. Our customers have the peace of mind knowing we will not apply harmful and potentially dangerous chemicals around their property. If we do have to use something stronger we make the customer aware in advance
2. Treatment Methods Used: Our treatment methods don't involve the use of signal word labeled pesticides. Instead, we use the TreeBark product, a naturally derived solution to killing off bugs, including termites. After we identify the type of termites our clients are dealing with, we'll decide the best way to go about killing them off. Termite Control In Fullerton doesn't have to be fumigation.
3. Do We Offer Only Residential Termite Services- No, we offer our services to both residential customers and commercial clients. Commercial and residential termite problems require slightly different tactics to solve them. Don't worry because we are up to the task, regardless if our customers are residential or commercial customers.
4. How Much Will It Cost You- This depends on how severe the termite infestation is. It also depends on whether or not we are using multiple treatments. Our rates are very fair and competitive. Our customers in Fullerton can rest assure they will receive a fair and accurate quote when they contact us for you.
Have any other questions for us? If so, give us a call.
Contact Us Today
If you're searching for termite exterminators near me, then contact us today. We are one of the top termite companies that service Fullerton and Orange County. We encourage you to read reviews that our past customers and current customers have left us. If you find termite damage repair services interesting or wish to learn more about any of the other services we offer, then call us today.
By the way, we'll be more than happy to provide you with a quote furthermore Simply call us and we'll ask you a few questions before giving you an estimate.
Schedule Free Inspection