Subterranean Termite Pictures and Information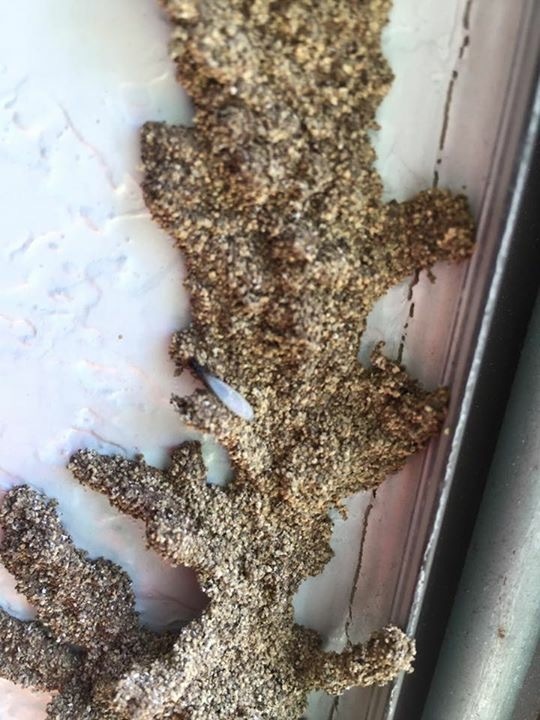 Subterranean termites are actually multiple species of termite, just like there is more than one kind of drywood or dampwood termite. "Subterranean" refers to any type of termite that builds its colonies underground. Regardless of the species, any signs of termites around the premises of a home or business mean bad news. Anaheim is known for having a subterranean termite problem from the old tree roots.
Appearance
Each Anaheim termite colony is divided into three castes: workers, soldiers, and alates.
Workers: 6mm long and cream-colored with no wings, these termites are responsible for most of the tunneling and household damage.
Soldiers: Cream-colored but with a brown head and large mandibles (jaws), this caste keeps the colony and territory safe from predators and competing colonies.
Alates: Dark brown and almost twice as large as worker termites with two pairs of wings, these termites breed while swarming in the air. As they grow older, alates (swarmers) lose their wings and move back into the colony where they continue to breed.
When to Look
Worker termites tunnel and eat 24 hours a day, seven days a week. Alates are mostly active at dusk but can be seen year-round. Solder termites are hard to find as they are frequently close to the nest. Termite eggs, nymphs, queens, and older alates will only be found in the colony.
Other Signs
When termites work their way through the foundation of a house, they leave signs behind. The wood may look fine from the outside but produce a hollow sound when knocked against. There may be hollowed-out tracks leading in the same direction of the wood grain. (If the tracks are leading against the grain, you may have dampwood termites.) Lastly, there may be tracks of dirt or tubes made of mudleading upward into the building. These tunnels may run along the wall or be suspended like a ladder between the ground or the building's foundation.
Native and Invasive Termites
Most termites found in Southern California are Subterranean termites, an invasive species which have been present for centuries. Subterranean termite colonies are roughly ten times the size or larger than Drywood colonies, some of which branch out to smaller colonies inside the house. Subterranean soldier termites are also more aggressive and make up 10 to 20% of the entire colony, compared to the 2% within a colony of Drywood termites. The invasive termites are more likely to take down live trees and even build mud nests inside them. Subterranean termites also spread more quickly, meaning they create more nests and infest more houses undetected .
Termite Prevention and Treatment
If you suspect termites may be on the premises of your home, the first step is to call Treebark Termite and Pest Control for a free inspection. The second step is to follow through with Ryania Treebark Termite Treatment, a pet-safe and environmentally friendly treatment which kills termites and prevents them from returning. The service comes with a two-year warranty that can be renewed indefinitely. Lastly, our specialists will perform wood replacement on-site. Please feel free to contact us with any questions so you can get started right away
CALL US FOR A FREE ESTIMATE
1.714.406.4919

What are you waiting for? Request a free estimate from our Toll FREE number or Book an Appointment. We will visit with our team shortly!
Tags:
Subterranean Termites